Primp My Ride: 10 Ways to Queer Your Vehicle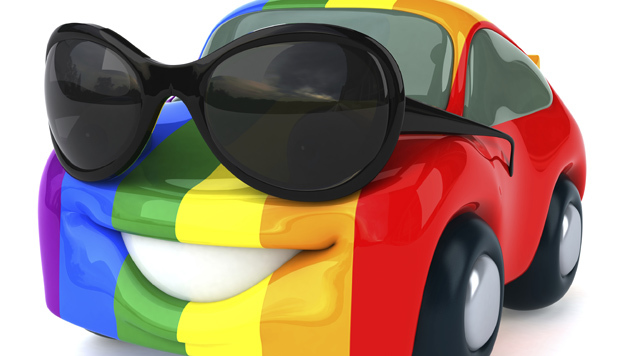 It's Pride season and in our motor-heavy city, cars are not just a means to get from A to B but a vehicle of self-expression. Here are some simple ways you can jazz up your Honda, give your Benz a bit of a bend or turn your Mini into a big deal!
Paint your keys rainbow using nail polish. Not only will this keep them Pride-ready year 'round, it'll also help you remember which one's which.
Bedazzle your steering wheel. Bedazzle your car radio. Wear bedazzled driving gloves, roll the window down and let your polka-dot scarf fly in the wind.
Swap it in for a Jeep Wrangler.
Buy eyelashes for your car headlights! That's right, we live in a world where you can buy false eyelashes for your car. It'll be like a drag queen with a motor!
Throw some glitter around in there.
Bang someone of the same sex in the back seat.
Play only George Michael and Tegan and Sara. Always on full volume.
Always with the windows down.
Purchase a 'little tree' air freshener. Cut it into a tulip instead.
If you want to show your Pride while also feeling like you're in the movie 'Tron', you can purchase rainbow LED lights for your car's underbelly. This will glow light onto the ground below and immediately surrounding your car, giving the effect that you've just run over a fairy village.
Rainbow racing stripes. Sure, everybody's seen rainbow bumper stickers. Rainbow racing stripes are next level. You'll go faster and gayer.
Sophie Joske