Protesters install rainbow road outside Daily Telegraph offices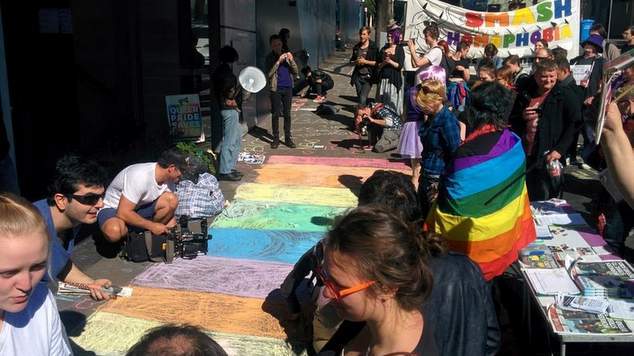 Protesters in Sydney have rallied outside the offices of the Daily Telegraph in response to last week's controversial 'Gayby Baby' cover spread.
An organisation known as Community Action Against Homophobes sent a call to arms through Facebook urging concerned citizens to congregate outside of the offices of the Murdoch-owned newspaper. Protestors took to the streets, covering the bitumen with a giant chalk rainbow in solidarity with 'Gayby Baby' and the LGBTIQ community.
The outrage began when last week the Telegraph covered an issue with images from 'Gayby Baby', claiming "Parents outraged as Sydney school swaps lessons for PC movie session". It was later revealed that no parents had complained to the school about the proposed screening.
Burwood Girls High School, from which Gayby director Maya Newell graduated, had planned to show the documentary on Wear It Purple Day – a day for supporting queer colleagues in schools and the workplace.
Burwood, along with 30 NSW schools, were banned from screening the documentary by order of NSW Education Minister Adrian Piccoli. Minister Piccoli reasoned that "schools are not placed for political issues to be aired."
Foreign Minister Julie Bishop visited Burwood Girls the same week and spoke on the topic of marriage equality.
"Anybody who doesn't believe in it, or it's not their values, shouldn't be made to feel isolated because of their view," she said.
Leigh Hill
Read More
28-08-15   NSW cinema offer cheap screenings of Gayby Baby in response to ban
26-08-15   OPINION: Those outraged by Gayby Baby should watch it
19-11-13   Growing Up Gayby