Protesters speak out against Margaret Court at Liberal fundraiser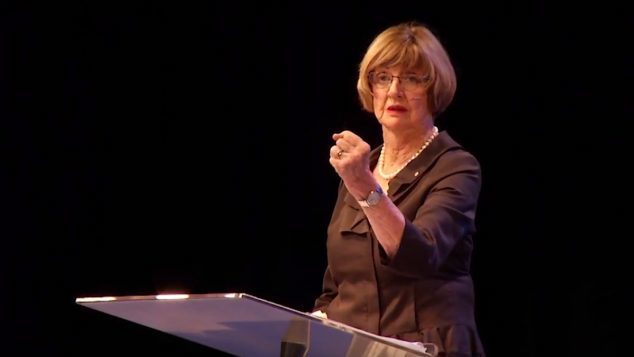 Protesters voiced their disapproval that outspoken religious leader The Reverend Margaret was invited to be the keynote speaker at a Liberal Party fundraiser in Melbourne.
Media reports estimate that around 100 people joined the Equal Love protest in central Melbourne last night where there was a large police presence.
Anthony Wallace, Campaign Manager at Equal Love said the protest had been a success and gained a great deal of media attention, but noted that some outlets had been selective in their reporting.
"Peace doesn't sell papers, war sells paper, so obviously it's a non-event if there isn't a scuffle from a media point of view." Wallace said describing the overall event as "peaceful".
"Peaceful in a sense that there was no violence, except for a moment that one person tried to run through the police to get to the actual entrance of the venue, and I can see from the footage that the police did grab them by their backpack and throw them back into the crowd."
Wallace said what the media was not showing was the rest of the crowd immediately laughed at the situation, choosing to cut the footage before the crowds reaction was captured.
During Question Time in the senate on Thursday Attorney General Senator George Brandis defended the party's decision to invite the religious leader to speak at the fundraiser.
Senator Brandis said Reverend Court's views attracted opposing views, but her presence on the party's event did not mean the Liberal party was not supportive of LGBTI rights.
"We can and I do both stand up for the rights of gay people and stand up for the rights of others to express a view that I, myself, personally find distressing," Senator Brandis said.
The former Tennis champion turned religious leader has voiced her disapproval of homosexuality, transgender people and rainbow families for decades, but has stepped up her attacks on the queer community in recent months.
Last month Reverend Court announced she would be boycotting airline QANTAS because of their support for marriage equality.
In a series of radio and television interviews the head of Perth's Victory Life Church shared her belief that marriage can only be between and man and a woman and her view that children should not be raised by same-sex parents.
Her most controversial comment however came during an interview with Christian media outlet Vision Radio when Reverend Court appeared to suggest that transgender children were controlled by "the devil". In the same interview the former Gland Slam champion also bemoaned that professional women's tennis was now "full of lesbians".
Anthony Wallace said the anger at the protest was not just over Reverend Court's comments but their endorsement by the Liberal party.
"We're annoyed not because of her opinion, she is absolutely entitled to hold them, she's entitled to free speech." Wallace told OUTinPerth. "We do have an issue though when the media decide to air her hated because we think that is quite damaging to members of our community. We draw more concern to those who wanted to amplify the hated."
"When it's put on a political stage, like it was last night, that is a major political party endorsing her, and the things she wants to say, by giving her the title of keynote and VIP speaker. That is what we have a major issue with."
The protest against Reverend Court has been condemned by The Australian Christian Lobby (ACL). Dan Flynn, the organisation's Victorian Director said the protesters used violence and intimidation.
"The protest, organised by 'Equal Love' employed intimidating and violent tactics to comprehensively bully those who hold to the traditional Judeo-Christian view, reflected in Australian law, that marriage is between a man and a woman," Flynn said.
Describing the protesters as 'savagely hostile' Flynn complained that the protesters used foul language and shouted chants about the Reverend that he said passersby would have found shocking.
Among the chants heard at the rally were "Hey Margaret go to hell", "F**k off, Liberals, F**k Off." and "One, Two, Three and a bit, Margaret Court is full of [email protected]!*"
Lyle Shelton, the Managing Director of the ACL defended Reverend Court via his Twitter account and said the activist organisation Equal Love was "unAustralian". Shelton also said the 'rainbow movement' was demonising the tennis great.
Writing on the website Eternity News gay Christian author David Bennet said the protest had been an example of "Christophobia", which he described as an equal evil to homophobia.
Equal Love suggested those concerned about inappropriate language should consider the statements Reverend Court has made.
"Margaret Court has said that trans people are the work of the devil. Margaret Court has said that homosexuals are no different, and think very much the same as Nazis. Margaret Court also said that being gay is just a 'lust for the flesh'.
"These are comments about people who exist in our society, and not only are not condemned by a major political party, they're supported."
Wallace said many of the chants that were shouted at the protest were made up on the spot by protesters and were not created by the organisers.
"Our chants were very much 'tongue in cheek' and a pun on words and directed at Margaret Court." Wallace said.
The Equal Love spokesperson said as organisers of protest events, the group was concerned about public safety.
"I'm concerned about safety, always. I'm concerned about those who we encourage to come out in solidarity and join us being put in harms way." Wallace said, noting that the group never wants to see scuffles occur as it potentially stops supporters attending.
"We try very hard to make sure that it is safe, but we are talking about the oppression of people. In the end, how long can you tell someone that they are not entitled to the same as everyone else because of who they are – eventually people break."
Wallace said he felt the majority of the anger at the event was channeled at the Liberal party rather than at Reverend Court.
Graeme Watson,  
---
Support OUTinPerth
Thanks for reading OUTinPerth. We can only create LGBTIQA+ focused media with your help.
If you can help support our work, please consider assisting us through a one-off contribution to our GoFundMe campaign, or a regular contribution through our Patreon appeal.