Push for Prime Minister to be uninvited from Mardi Gras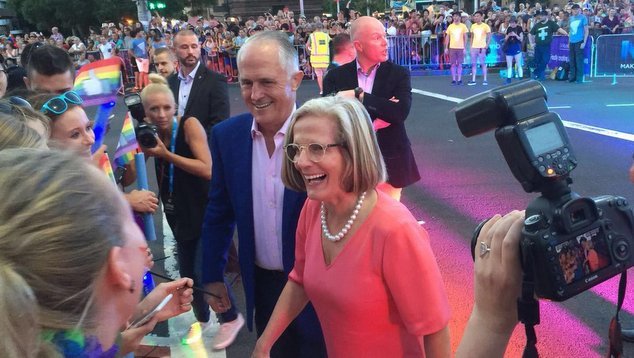 A member of the board of Sydney Gay & Lesbian Mardi Gras has spoken out at a marriage equality rally in Sydney today, calling for the Prime Minister to be uninvited from the annual celebrations.
SameSame report that board member and founder of DIY Rainbow James Brechney branded the Prime Minister a "dickwad", decrying the ongoing debate over the plebiscite and marriage equality.
"We've all seen that photo of Malcolm and Lucy Turnbull at this year's Mardi Gras," Brechney said.
"I'm a board member of Mardi Gras and I don't speak for the other board members, but after this rally at the next Mardi Gras board meeting, I'm going to tell them that we don't want Malcolm Turnbull at next year's Mardi Gras."
Brechney told SameSame it seems like the Prime Minister doesn't care about the issue.
"How can a man who is supposed to be the leader of this nation and one who has attended Mardi Gras, ignore the concerns of numerous LGBTQI organisations around how damaging a plebiscite will be for our community?"
"It would be better if he and Lucy enjoyed their marriage in private next Mardi Gras if we're still fighting for our right to access the institution."
OIP Staff
---
Sources