Rainbow Crossings Galore
The New South Wales government's sudden decision to remove the rainbow crossing on Oxford Street in Sydney has lead to a nationwide guerrilla crossing movement.
In Perth a new chalk rainbow crossing appeared in front of the popular pub The Flying Scotsman. Mount Lawley local, Adam Bishop, who was meeting friends at the pub, noted that friends had commented that the rainbow was a welcome edition that was not there when the venue closed the night before.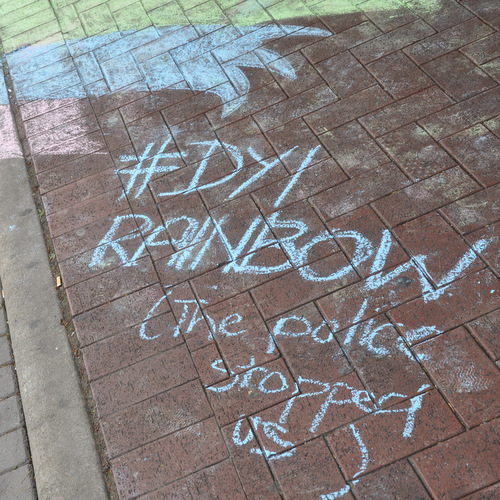 The Beaufort Street rainbow crossing is incomplete with a note stating that police had stopped it being fully shaded.
For Denny Price, who discovered the rainbow walking down Beaufort Street, the new art work was a surprise,  he commented, "I love it, I love the whole movement, it's a stand against the man." Price's sister Chole said she loved the freedom expression involved in the impromptu movement.
A Facebook group that encouraged people to draw rainbow crossings has been filled with images of people talking to the streets, driveways and car parks with chalk. Images have been posted from many Sydney suburbs, Broken Hill, New Zealand and even Kenya.
In Perth this afternoon another artistic protest is planned, people are invited to head to Cottesloe Beach to make a rainbow across the beach with different coloured beach towels. The rainbow making is planned for 6pm this evening.
The protest movement follows removal of a rainbow crosswalk on Oxford Street in Sydney's Taylor Square – the heart of the cities queer area. The crosswalk was installed as part of the Mardi Gras celebrations. It proved to be a popular tourist attraction and there were calls to keep the crossing permanently. Earlier this week NSW Roads Minister Duncan Gay ordered the sudden removal of the crossing.
Have you seen a rainbow crossing in your neighborhood?
OIP Staff, Gallery Images from Facebook