Remembering Edward Sotomayor Jr
Edward Sotomayor's name was the first name read out as a victim of the Orlando shooting.
The first of a batch of names released by the authorities as they slowly began the painful task of identifying 49 people who lost their lives at the Pulse nightclub.
For local photographer Claire Alexander the confirmation that her friend was among those killed ended hours of speculation Sotomayor's friends and colleagues had endured since concern was raised that he may have been at the nightclub.
The Perth based photographer has focused her career on photographing drag performers and has traveled the world capturing people in the drag scene at work and behind the scenes.

"I first met Eddie in Venice," Claire shared with OUTinPerth. "I was photographing a cruise featuring performers from 'RuPaul's Drag Race', it's called the 'Drag Stars at Sea' cruise and I went on two of them. Eddie was the guy who organised me and we discussed what my role would be on the cruise. He looked after all the entertainers, all the drag queens and myself and all the DJs."
Claire said one of the quotes she'd seen on social media in the wake of Edward Sotomayor's passing had summed him up very well when it said "he made strangers into family."
"He was in the middle of all these entertainers who came from all over the world and he was the one to introduce us to each other. He created this huge web of connectivity.
"He was a really fun guy, he was always smiling, he was always running around organising everything, talking to everybody." Claire said.
Claire explained that many people knew Sotomayor by his nickname 'Top Hat Eddie'.
"He wore these top hats, everywhere you saw him he'd be wearing a top hat. It could be in the middle of a drag show, or in the dining room, or out in the middle of Santorini, he'd be wearing a top hat.
Claire last saw Sotomayor a few weeks ago when they were both at RuPaul's Drag Con in Los Angeles.
"We'd all been at Drag Con for two days… and I took the photo on the Sunday night. It was so good to see him, I hadn't seen him since we were last on a cruise about a year ago. He was really happy and seemed to be happy to be around his friends.
"He was talking to drag queen Rhea Litré, and we were catching up. I'd taken a bunch of photos of both of them when we were on the cruise."
Just before the group parted ways Sotomayor asked Claire to take another photo of him and Rhea Litré.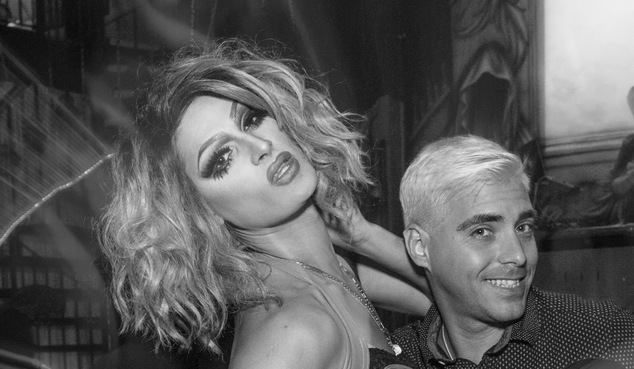 Image: Well known drag queen Rhea Litré and Edward Sotomayor Jr at 'Vamp' hosted by Detox at Los Angeles' Bar Sinister. 1:36am 9th May 2016. Photographer – Claire Alexander.  
In his role as the brand coordinator for ALandCHUCK.travel Sotomayor had met thousands of LGBTIQ people booking holidays on cruises around the world.
Today Al Ferguson from ALandCHUCK.travel praised Sotomayor recounting his dedication to his role and highlighting that Sotomayor has led the first gay cruise to Cuba.
Sotomayor is just one of 49 people who lost their lives at the hands of a gunman at Pulse Nightclub in Orlando Florida.
Graeme Watson
---
Do you need some support?
If you  are struggling with anxiety or depression, support and counseling are available from:
Lifeline: 13 11 14
Beyondblue: and www.beyondblue.org.au
QLife: and www.qlife.org.au QLife are a counselling and referral service for Lesbian, Gay, Bisexual, Transgender and Intersex (LGBTI) people.
Kids Helpline is available for younger readers.  Call 1800 55 1800, it's free.
---