Retro Cassette Friday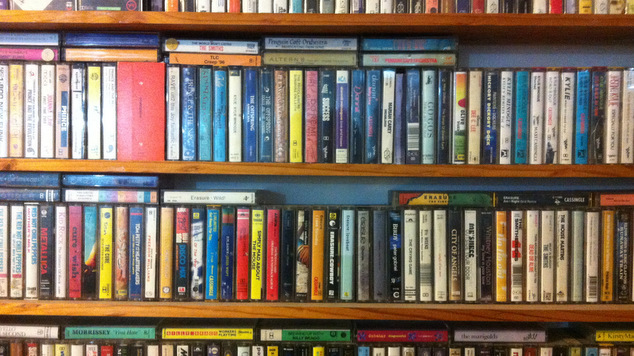 We blindfolded the work experience student sent them over to the cassette collections and got them to pull out three more musical gems from the past. They brought back a lost electro masterpiece, arguably the best solo album by a Spice Girl and a fairly painful debut album from a gay superstar.
Pseudo Echo, Autumnal Park
EMI, 1984
Pseudo Echo tend to be remembered for their cover of the Lipps Inc disco hit 'Funky Town' which is a shame because before this they made two outstanding albums of pop music. Later they made one regrettable album of 'middle of the road' rock, but their early output is world class.
'A Beat for You' is sparse and slightly overbearing as lead singer Brian Canham sings, "There's a beat for you in my heart, I'll tell you true from the start". This album scored some great hits including, "Listening" and "Stranger in Me', it was the soundtrack to many 1980's blue light discos.
…and half the experience of this band were they're amazing hair, they were our own version of Duran Duran.
Melanie C, Northern Star
Virgin, 1999   
Melanie Chisholm was always acknowledged as the Spice Girl who could really sing and it's no surprise that he debut solo album is the best selling solo output from the girl power collective.
The best songwriters and producers in the business were lined up for this record including William Orbit who was riding high on the success of Madonna's 'Ray of Light', Phil Thornalley who'd just scored a big songwriting hit with Imbruligia version of 'Torn', Massive Attack's arranger Craig Armstrong, plus mega producers Marius DeVries, Rick Rubin and Rick Knowles, who was behind many of Belinda Carlisle's hits, pitch in.
From the punk rock of debut single 'I'm Going Down', to the euphoric dance beat of 'I Turn to You' and the pop hit 'Never Be the Same Again', there are many great moments on this LP.
Boy George, Sold
Virgin, 1987
In 1987 Boy George had gone from the high of being one of the biggest bands in the world, to a very public free fall which saw him seek treatment for heroin addiction, frequently be the focus of tabloid newspapers and step out as a solo artist after his band Culture Club imploded.
This is not Boy George's greatest moment, it sounds like Culture Club without the fun and way too money being thrown at the production. There are some highlights though, a reggae styled cover of the Bread song 'Everything I Own' gave George his first solo number one and the closing track 'To Be Reborn' is a beautiful gospel styled track.
Half the tracks on the album were written with Lamont Dozier, who was part of the successful Mowtown songwriting team Holland/Dozier/Holland. Given the plethora of trumpets on this album you can;t help but wonder if George was channeling his good friend Diana Ross for most of this album.
Read More:
12-07-2013   Sheila E, Koo De Tah, TLC
05-07-2013   Cicero, Electric Pandas, The Magic Trousers
28-06-2013   Donna Delory, Adam Rickett, The Blue Nile
21-06-2013   The Nolans, Mandy, Penguin Cafe Orchestra
14-06-2013   The Pointer Sisters, The Stone Roses, The Jungle Brothers
07-06-2013   The Tourists, Haysi Fantayzee and The Jacksons
31-05-2013    Agnetha Faltzcog, Bill Withers, Erasure, Cocteau Twins and The Smiths