Return of The Vaudevillians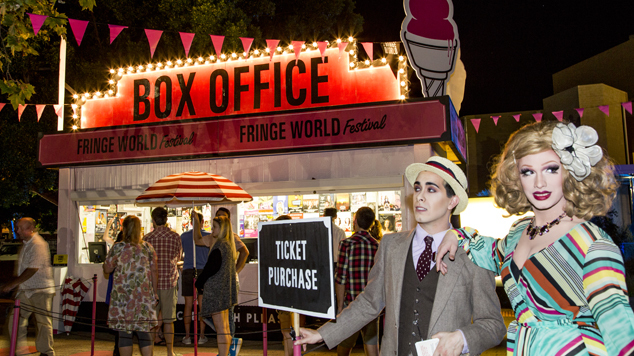 If you've ever seen RuPaul's Drag Race winner Jinkx Monsoon perform, you'll know she's mesmerising. Add to her alluring presence the musical genius that is Major Scales, and you have 'The Vaudevillians'.
They're the hottest act ever frozen alive, and they're coming to Perth this month for Fringeworld. The show is driven by the 1920s duo, Kitty Witless (Jinkx Monsoon) and Dr. Dan Von Dandy (Major Scales), who have just thawed out from being frozen in the prime of vaudeville, only to find that their original music has been unceremoniously co-opted by artists of the modern era.
The hilarious couple perform hits from the likes of Janis Joplin and Madonna… It's vintage cabaret, with a hint of drag, and a healthy dose of audience engagement. Jinkx and Major Scales spoke to Claire Alexander from the road on their way to Perth.
The premise of The Vaudevillians is so unique! How did you conceive of the show, and what drew you to Vaudeville as a setting?
Really, it just started as a joke between the two of us. We thought of this idea about two old vaudeville performers, and figured, "Surely only us and our closest friends will ever laugh at this." We've always both been drawn to older styles of performance, either to '70s and '80s drag idols like Bette Midler, or to cartoonish big band music of the 20s-30s. I think it's our overlapping of interest in exaggerated forms of theatre that helped bring us together to make this show.
I love the audience participation aspect of the show—do you have any favourite moments from past shows?
The audience participation bits are some of our favorite bits too. No matter how many times we've done the show, those parts always change and can still sometimes make us break out laughing. Like the guy who decided to bench-press Kitty… or the man whose gum I took from his mouth…
How did you find performing in the middle of a heatwave last time you were in Perth? (fingers crossed this time that it'll be a lot cooler)!
It wasn't easy! I sweated through my share of suits every night (have you ever tried to air out a vintage tux?). But we both lost several pounds from it, so that felt great! Best workout plan ever! Besides, who doesn't like a 6 foot, sweaty woman!?
Kitty sure is a character, what do you think fuels her feisty personality? 
Kitty is fueled mostly by her love of attention. She loves every thing about being onstage, even if at times she wishes she had it all to herself. She is also a quick learner and ambitious, so she is trying hard to adapt to modern times even though her husband is trying to keep her in the twenties. More than anything she is fueled by her need for the audience to love her (more than Dr. Dan)
How have Dr Dandy and Kitty Evolved over the course of your show?
I think Dan has gotten quite a bit more controlling. It makes him feel like a big man to tell Kitty what to do, but he always gets knocked back down. Kitty continues to try to maintain her ladylike disposition while confronted with the dilemmas of the modern day woman.
The subtle musical and cultural references in the show really give it a depth, another level.
A lot of those are the silly references we never thought anyone else would find funny, but are some of the most popular bits of the show. Throwaway gags about Marie Curie and the Andrews Sisters were just nerdy things we added in to keep us entertained; looks like there are more nerds out there than we thought!
What does the future look like for The Vaudevillians? Anything in the works?
Our new version of the show comes up in May in New York at the Laurie Beechman theater. You can expect new songs, new comedy, and maybe even a bun in the oven for Kitty…
Catch The Vaudevillians at Fringe World from 29th January to 6th February. Tickets are available from the Fringe World website.

Claire Alexander
Image: Claire Alexander