Review | Celebrate the joy of life with 'Tash York's Happy Hour'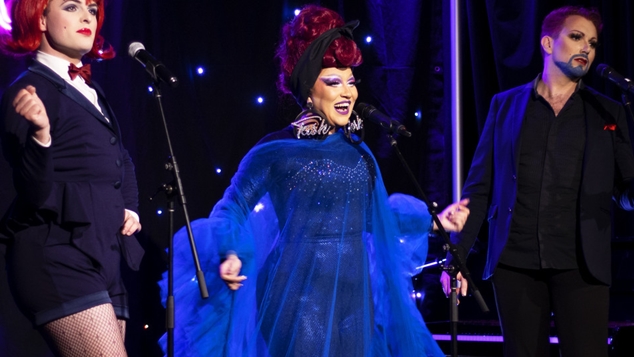 Tash York's Happy Hour | The Pleasure Garden | til Feb 8 | ★ ★ ★ ★ ½ 
After a 3 year wait, Tash York has returned to Perth, bringing her signature brand of drag-cabaret-singing-comedy with her – along with the Red Red Wines, her adoring supporting cast. With all three performers uniquely talented in their own right, the combination of the trio on a single stage is exactly what Fringe is about – eclectic, chaotic, and entirely too much – in the best possible way.
Despite a small Tuesday-night crowd, Tash and her cast performed as if it were a sell out, putting their vocal and musical talents on display early, with the audience settling in and engaging easily. Tash has a particular talent as a host; she uses a range of comedic elements to get to know her audience, and to share a snippet of her life with them in return. We got to know Tash in an intimate way (actually, in many intimate ways), and the reflection at the end of the show of most audience members stopping to chat with her as they left shows that they felt engaged, entertained, and connected with the performance.
Tash's talents went well beyond the basic expectations of a cabaret singer. She proved that she is a capable songwriter, both performing her own tracks as well as making one up during the show; she's an avid cat lover and shares that passion with the crowd; and she's a voracious 'wine enthusiast', which resonated well with our Perth crowd. It might sound weird to combine cats, wine, improvisation and singing into a box of 'talent', but it creates a unique and hilarious show that really could change at any moment. Adding to this was the clever narrative and interludes from Peppy Smears and Vivian Fonteyn (The Red Red Wines), who were the perfect combination of classy, snarky, supportive and fabulous.
Peppy dominated the live musical tracks with their fingers flying over the keyboard, adding their low rumbling vocals to Tash's performance. Clearly extensively trained, they were controlled and expressive, at one stage taking a mishap on the chin and sorting it out quickly, without interrupting the show. Accompanying as another Red Red Wine, Vivian Fonteyn also lent their vocal stylings to the show adding string harmonies effectively without overpowering the others while playing the Violin. Vivian was enigmatic and charming, a nearly-perfect supporting lady. The balance that all three performers found in performing was sensational; the supporting cast were featured, highlighted, and shone without taking the spotlight from Tash York.
Tash York's Happy Hour celebrates all things that make a person happy – love, sex, wine, cats, and more. This show deserves a much larger crowd, so go and see it while it's on and support Tash and her supporting artists with your presence. You're guaranteed a laugh, maybe a tear, but definitely a Happy Hour.
Catch Tash York's Happy Hour at Fringe World until Wednesday 8 February.
Kiera (they/them) is a passionate arts creator and consumer, especially in the fields of cabaret and burlesque. Combining 20+ years of arts experience with numerous research and education-based qualifications, they enjoy sharing their knowledge and experiences.
---

You can support our work by subscribing to our Patreon
or contributing to our GoFundMe campaign.