Review | Cirque du Soleil – Crystal brings acrobatics on ice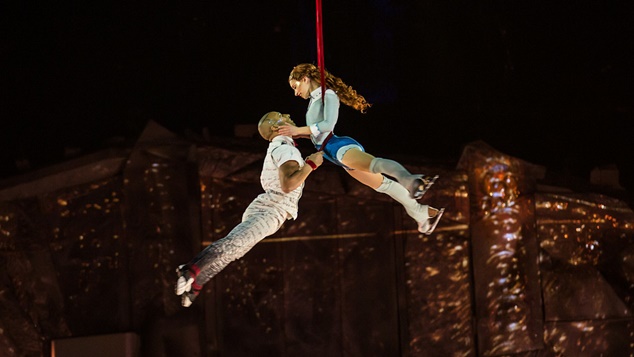 Cirque du Soleil – Crystal | RAC Arena | 15-24 September | ★ ★ ★ ★
Cirque du Soleil made a long-awaited return to Perth on Friday night with their magical production Crystal that combines their skills of acrobatics, tumbling, and other circus skills with ice skating.
Crystal was created by Shana Carroll and Sebastien Soldevila and is the company's 42nd original show since they began in 1984. The show features original music from Maxim Lepage while also incorporating songs from artists including U2, Sia, Nina Simone, and Beyonce.
The skills on display are impressive, it's everything you expect from a Cirque du Soleil show but with the added challenge of doing it on ice. The performers whizzed around the stage at breakneck speed, flying off ramps and spinning around, but they also did back flips, juggled, flew into the air for daring high wire feats, balanced on chairs, and never ever slipped or came crashing down.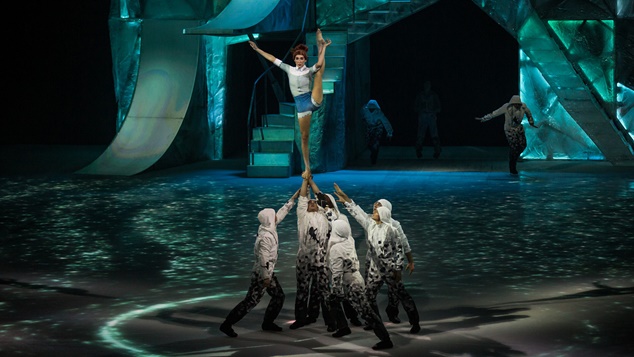 All of that is staged within a beautifully adaptive set, filled with countless characters in creative costumes, and aided by projections that help tell the story of Crystal.
We meet Crystal, a young girl who does not fit in with her family, who struggles at school and get lost in flights of fantasy. Deciding to run away from home she skates across a frozen lake, but the ice cracks and falls through the ice, but rather than being plunged into the freezing water, she falls into a mysterious alternative world.
In this upside-down world she sees a reflection of herself who guides her through her surroundings and teaches her how to unleash her creativity and find freedom through expression.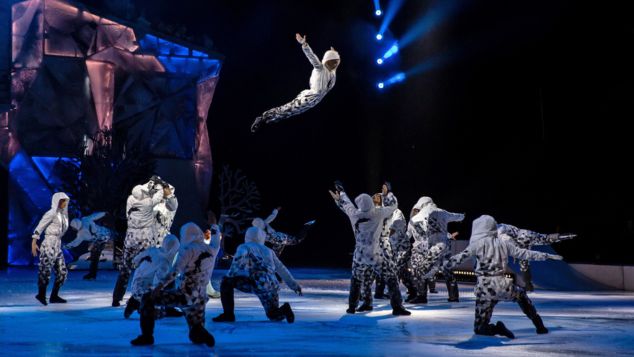 The skills on display in this show are impressive. This cast of flawless performers have mastered multiple skills to deliver this story, they're acting, undertaking death-defying moves, and flying around the area on ice at break-neck speed.
This world they create is immersive, but maybe lacking some of the whimsy and quirkiness of previous Cirque du Soleil shows. This world is a reflection of our own, complete with corporate careers, typing pools and performance anxiety. The icy blue grey palate is also distinctly different to the company's usual colour filled creations.
The soundtrack includes several musicians playing live including a Saxaphone player, a violinist and a guitarist.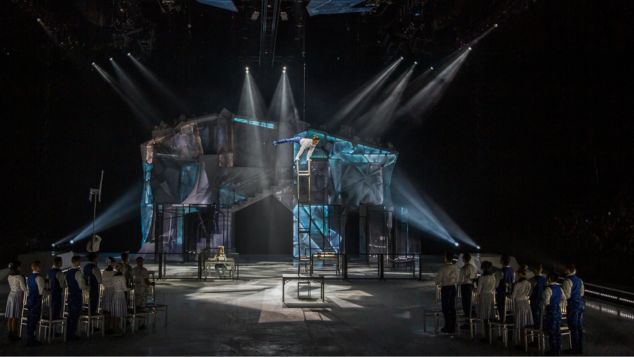 This a great show that's suitable for all-ages, if you've never seen a Cirque du Soleil show you'll find great enjoyment in the experience, if you've already seen a stack of their work over the years, this one comes with the added ingredient of ice-skating that adds a new dimension to the experience.
Watching the dazzling display of skills in the show you can't help but wonder where these performers came from. Are they circus crew who had to learn how to skate, or champion skaters who have mastered the ability to fly through the air, juggle and balance?
There are moments in the performance where it felt slightly drawn out, and I found my attention wandering. There are moments where there's an excessive focus on the little girl wandering about lost in a strange world dealing with her anxieties.
Overall, it's a show filled with massive amounts of undeniable talents and there's nothing else quite like this.
Cirque du Soleil – Crystal is at RAC Arena until 24th September. Tickets are on sale now.
Graeme Watson
---

You can support our work by subscribing to our Patreon
or contributing to our GoFundMe campaign.