Review | Damian Callinan in Swing Man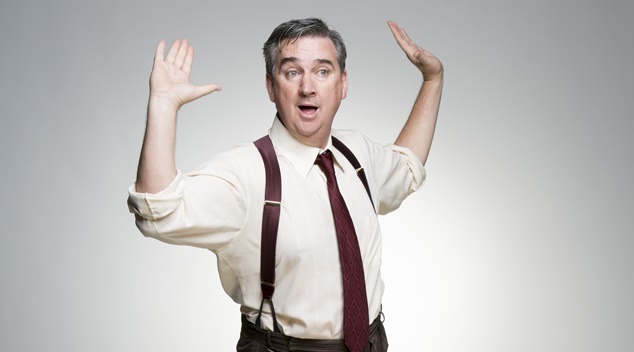 Damian Callinan in Swing Man | Casa Mondo | til Feb 25th | ★ ★ ★ ★ ★
I have a confession.
Despite being a renowned character and multiple award-nominated stand-up comedian, I didn't know who Damian Callinan was before I saw his show. I should get out more — perhaps to one of the Swing Dance classes that Callinan manages to both warmly parody and lovingly describe in his show.
Damian Callinan in Swing Man is one of those wonderful shows that you can go into with no prior knowledge or expectations ahead of time. In a world where sometimes you don't know if you might be bent over a chair and flogged as part of a show's finale, Damian Callinan is a breath of fresh air.
The premise is simple enough, and has undoubtedly happened to the best of us: kidnapped by swing-loving aliens, Callinan has to learn how to swing dance by the time he turns 51. What follows is a genuinely funny journey through Callinan's youth, unfolding almost like a frequently-hilarious therapy session, with Callinan revisiting key moments that have contributed to his OTTDS (Over The Top Dance Syndrome).
Callinan is joined in the show by the very talented Genevieve Wallis, who plays a deadpan automaton provided by the aliens as Callinan's dance partner. Wallis is similarly incredibly funny as an emotionless robot who lacks conversational skills, but responds to impro prompts. Wallis also shines with Callinan in some brief skits where they play a couple from the USA's deep south giving dance lessons on a TV show.
And, of course, Wallis is nothing short of an amazing dancer.
Together Callinan and Wallis compliment each other perfectly, and seem to have a genuinely warm liking for one another. The show progresses effortlessly, other than for the obvious effort Callinan has actually put into learning to swing dance, and the challenges of performing in Casa Mondo's cramped arena.
Swing Man manages to be more than merely greater than the sum of its parts. Damian Callinan delivers more than the frequently-retold story of "man kidnapped by aliens must learn to dance to avoid being anally probed" and transcends just telling jokes about his youthful misadventures. On top of that, the show is also more than just an amusing "history of dance" — yet it manages to be all of these things, as well as including unexpectedly funny impro elements.
I mention it being like therapy for Callinan, and there is almost a serious side of what really drove the 51 year old man to learn to swing dance — but with Wallis' help, Callinan delivers the show so smoothly that you don't stop to ponder the bigger questions. But you might leave wondering if Callinan got to stay in contact with the alien automaton dance partner.
Damian Callinan is swinging until February 25th. Head to fringeworld.com.au for tickets and more info.
James Chesters
---
Support OUTinPerth
Thanks for reading OUTinPerth. We can only create LGBTIQA+ focused media with your help.
If you can help support our work, please consider assisting us through a one-off contribution to our GoFundMe campaign, or a regular contribution through our Patreon appeal.