Review | Dolly Diamond sparkles in her version of Blankety Blanks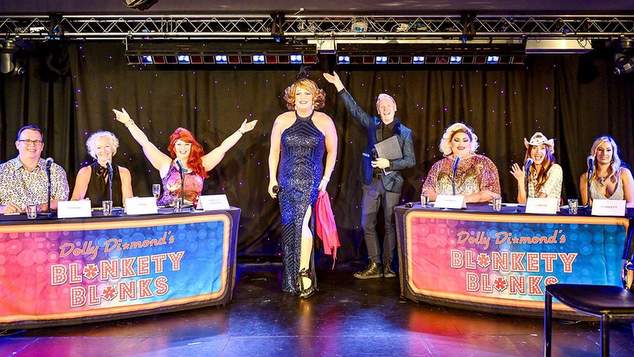 Dolly Di*mond's Bl*nkety Bl*nks | Downstairs at the Maj | til 16th Feb | ★ ★ ★ ★ ½ 
Melbourne's queen of cabaret Dolly Diamond returns to Perth with her extra-fabulous re-imagining of the classic Australian version of the US game show Match Game; Blankety Blanks.
Diamond retains the format of the Graham Kennedy vehicle, bringing two contestants to the stage to try to fill in the blanks and win points by matching their answers with a celebrity panel. Here at Fringe World, Diamond makes sure to give the show a west coast flair – bringing locals like drag star Feminem, the oh-so-Famous Sharron and our very own Managing Editor Graeme Watson.
Dolly's assistant gives us the layout of the evening before Diamond takes to the stage, with a high-camp rendition of Love Is In The Air. Diamond brings an energy of classic Australian drag to the stage, and is absolutely unstoppable on a microphone. I would have gladly spent the entire hour listening to her banter on the mic as she set out to embarrass an unsuspecting youngster in the front row.
The panelists take to the stage, and we meet two pre-selected contestants from the audience who are set with the task of filling in the blanks in phrases given by Dolly. The rules of television are of course out the window Downstairs at the Maj, so contestants are less compelled to try and make sexual allusions – "cock" was easily the top answer of the night. To me this almost takes away the fun of having to be more playful with your words, but the audience were absolutely howling for more.
The hour-long timeslot didn't work in the show's favour, with panelists getting very little airtime and the 'game' portion of the show felt quite rushed – Dolly and the panel were more than capable of keeping the fun rolling! Regardless, the game show is a whole lot of fun, and Diamond's agility on the mic had the audience gasping for air. Blankety Blanks makes sure everyone leaves a winner.
Dolly Di*mond's Bl*nkety Bl*nks will be Downstairs at the Maj until Saturday 16th February. Tickets and more information available from fringeworld.com.au
Leigh Andrew Hill
Disclaimer:- OUTinPerth owner/editor Graeme Watson was part of the panel at this performance.