Review | Famous Sharron's Love Match serves an ace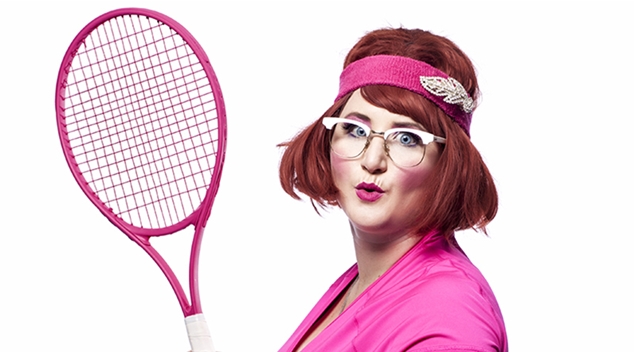 Famous Sharron: Love Match | Hellenic Club of WA | til April 29 | ★ ★ ★ ★ ★ 
Dust off your tennis whites, Famous Sharron is back to help Perth find a love match.
Given Famous Sharron's burgeoning international superstardom it is a rare treat for Perth audiences to get up close and personal with a home grown comedy superceleb.
The home court advantage was played to maximum effect and the Famous Miss Sharron was ably supported by her celebrity ball handlers Mackane Reid from The Bachelor and local journalist Michaela Carr, who were never far from being reminded that "it's not your show doll", lest they stole too much of the limelight.
Beginning by announcing her status as a celebrity celebrant the audience was suitably awed and followed up with a total brag of the hotspots she's recently graced with her presence. Highlights of her whistle stop quest for world domination included enviably exotic locales such as Port Hedland, Geraldton and Karratha. Then the matchmaking madness was allowed to begin.
Dragging audience members on stage to participate in the proceedings is a comedy staple but it's not without the risk of having dull patrons drag down a routine. Sharron used her impressive improvisational skills to ensure not a minutiae of relationship dirt was left unturned. It was a well balanced mix of gentle humiliation and harmless fun and all participants took it in the spirit in which it was intended. This was of course the search for true, everlasting love.
If there is one takeaway from Love Match that stands as a marker of the show's success it would have to be that when Game, Set & Match was called not a single audience member left in a bad mood. Of course it didn't hurt that the evening's festivities were capped off with a generous serving of celebrity selfies with Famous Sharron herself.
You'll need to act fast if you want to get served a Love Match; one more performance is left which will include surprise celebrity ball handlers.
The balls start flying at the Hellenic Club, tonight Sunday 29th April. Tickets and more information available from perthcomedyfestival.com
Clinton Little