Review | Glades take fans on a romantic drive down memory lane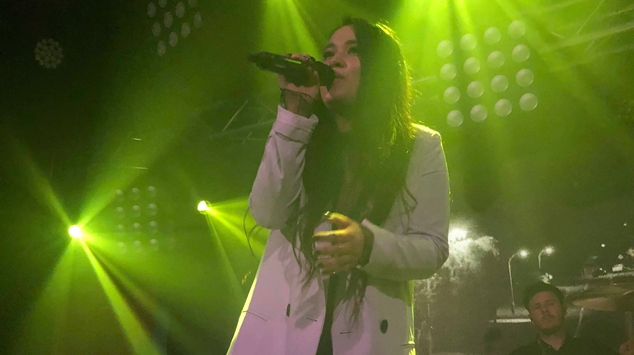 Glades | Jack Rabbit Slim's | Fri Nov 30 | ★ ★ ★ ★ ½ 
Comprised of three members: Karina Wykes, Cameron Robertson & Joseph Wenceslao, Glades garnered widespread attention for the first time in 2016 with the release of their track 'Drive', and have only gathered more attention since.
Hailing from Sydney, electronic-pop trio Glades have finally released their highly-anticipated debut album To Love You, two years after the release of their first EP This is What It's Like. Now, Glades embark on a national headline tour following their performance at Listen Out earlier this year. This led Glades to not only perform alongside big names in music such as A$AP Rocky, Skrillex, Snake Ships and Confidence Man, but have even toured with the likes of LANY and Clean Bandit.

Supporting acts at the Perth show were Indie Hip-Hop band Balu Brigada and Indie Pop band L.A. Women, both hailing from New Zealand! Keep an eye on these two as they're sure to have big futures!
Overall, Glades' set-list took the crowd on a metaphorical Drive, exploring the highs and lows that love and relationships have to offer, causing you to question what happens when you take off the rose-coloured glasses and begin to realise that your significant other may have their faults.
Opening with the first track on their album titled Nervous Energy immediately followed by 80 Miles and Speechless was the perfect way to set the tone for evening. Nervous Energy allowed the trio to shake off their nerves to relax and get into their groove, setting an electric and authentically blissful tone, whilst 80 Miles hinted towards journeying with a significant other, and becoming Speechless by them, seeing them through rose-coloured glasses.
Meanwhile, the crowd were immediately captivated by the opening lines and begun to sing along through these initial songs, matching the energy of frontwoman, Karina.
Not About You and Neon Buzz begin to exemplify this roller coaster on the road to love, showing the cracks befalling this relationship, starkly contrasting each other. Not About You suggests there is a moment of realisation about their significant other regarding themes of self-centrism. Followed by Neon Buzz, which clambers back to the idealised infatuation initially held.
From here, Glades briefly shy away from their usual upbeat vibe, while still maintain their dream-like sound, and generate an emotionally relatable melancholy in 'Keep it from you' and 'Through to you'. The raw emotion exuding from frontwoman Karina was felt through the entire crowd. Having been set in such an intimate space such as Jack Rabbit Slim's, the band were merely an arms reach away, which only further intensified the emotions of hurt, pain and loss spreading through the crowd.
Fresh from Triple J's Like A Version, Glades also performed their recent rendition of Silverchair's Straight Lines, demonstrating the breadth and vocal chops Glades' frontwoman has to offer.
Love You Better highlighting that the relationship may be progressing too quickly, that slowing down will be better in the long run, being able to love them better. Sequencing into Sweetheart and Eyes Wide Shut gives insight into the crumbling relationship, questioning where they would be had they not met their once significant other; stating that they were only there for the good times, realising they weren't intending to put the work into the relationship, fleeing once it gets hard.
Dangerous and Porcelain provides internal dialogue to the thoughts concerning the relationship. All the overthinking and questioning of the worth of the relationship culminates in highlighting the fragility of the relationship, and eventual moment of self-actualisation in Better Love.
Ending the night with their two biggest hits, Drive and Do Right, which can be alluded as reminiscent of the story that unfolded between two lovers, in which one takes a look back at the past relationship, and learns from it, applying their mothers teachings from when they were younger.
Glades took the crowd for an explorative drive on their To Love You national album tour and ensured no eyes were wide shut for their electric performance!
Alex Westin