Review | GLAMOURPUSS is all about glitzy fun and sass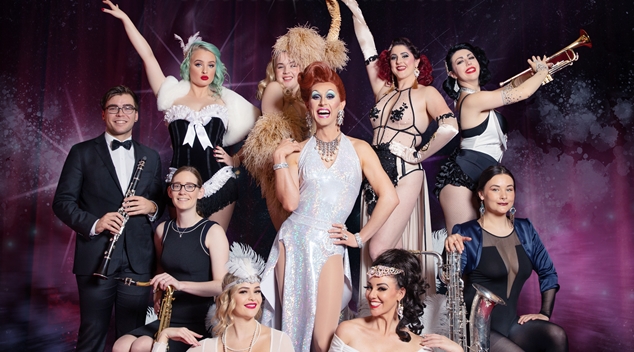 GLAMOURPUSS | The Edith | til 16th Feb | ★ ★ ★ ½ 
Cabaret is all about glitzy fun and sass and GLAMOURPUSS has plenty of both to share.
This Fringe World Festival, Cougar Morrison and Mark Turner join Perth Cabaret Collective in The Edith Spiegeltent in Yagan Square for a night of jazz, dancing girls and laughs. The Collective takes us to Vegas this year, with the requisite sequins and feathers galore.

Led by musical director Jess Herbert, Perth Cabaret Collective's joy in performance is palpable, even on a quiet Monday night. The energy of the band is contagious, as is the on-stage rapport of its members.
Turner's suave performance is thoroughly enjoyable and Morrison throws just enough shade on Midland to stay true to her Perth roots before delivering a remarkable rendition of Non, Je Ne Regrette Rien.
Having won Best WA Cabaret at several successive Fringe World Festivals, GLAMOURPUSS should be a surefire winner but somehow wasn't quite as exuberant as last year's offering. Whether it was the absence of the charismatic Jessie Gordon or the 6.30pm time slot, surely too early for dirty jazz shenanigans, this year's offering is more restrained despite the sequins.
The always charming Perth Cabaret Collective dancers contribute the razzle-dazzle, with their gleeful combination of sass, cheek and energy. Choreography may have let the troupe down though, on occasion the dancers and vocalists compete for space on the intimate Edith stage.
Even so, there is still so much here to like. Herbert's turn as a tap-dancer, for example, proving the saxophonist and musical director may well be a lynch-pin in the Collective's energy and no-holds-barred attitude.
A big part of any show in a venue like The Edith is the energy of the audience and the seasoned performers valiantly engaged the opening night crowd. Fringe goers can expect to step into a little slice of Vegas behind the spiegeltent doors every night this week, at a weeknight friendly time.
GLAMOURPUSS runs at The Edith Spiegeltent at 6.30pm every night until Saturday 16th February. Tickets and more information available from fringeworld.com.au
Rachel Watts