Review | Gloria's Glorious Gloryhole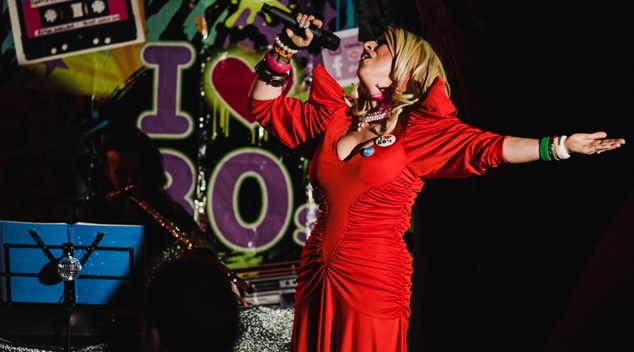 Gloria's Glorious Gloryhole | Noodle Palace: Bok Choy Ballroom | Until Feb 4 | ★ ★ ★ ½
Dearly beloved, we are here to get through this thing called Fringe. But I'm here to tell you there's something else…Gloria's Glorious Gloryhole. So begins this show with a deliciously relevant homage to his fallen majesty of high heels, Prince. And so begins a raucous decent into the most hedonistic era in recent history, The '80s.
Gloria's Glorious Gloryhole is essentially a wet moist lady cave of live singing, cheeky audience interaction and more than a few men squirming in their seats. It's a mash of Queen, Annie Lennox, George Michael and classic '80s movies, all marinated in lashings of bacon and bottles of gin.
Fun is the main goal here as G-list celebrity Gloria ignites a collective joy for nostalgia. In fact, Gloria truly is Perth's People Princess of Pop Nostalgia, much like Princess Diana…except with better cleavage… and gin… and a better idea of what to do with Charlie. Her words, not mine. But as you can see, Gloria has a very cheeky sense of humour: fisting and drug references are scattered throughout her repertoire.
The show teeters and whimpers a little in places. This might be due to opening night nerves or too much lubrication (on the audience's behalf mainly) but Gloria successfully steers the night into hilarity with an actual real-life Rick Roll. It was particularly effective since the young gentleman in the audience didn't know who Rick Astley was (c'mon Rhys: everybody knows who Rick Astley is). His awkwardness at Gloria's consequent serenade lifted the entire vibe. From that point on you couldn't help but singalong.
If you have a hankering for The '80s, this show has been made just for you. It contains plenty of flash mob singalongs and copious moments of watching audience members squirm in the most delightful manner possible. Special shout out to accompanist Blondie: damn they can sing. And so can Gloria in her glorious, at times off-kilter, manner. But Gloria does do brilliantly is make you smile. And that's exactly what her Glorious Gloryhole will do too.
See Gloria's Glorious Gloryhole at the Noodle Palace Bok Choy Ballroom until Saturday February 4th. Tickets and more information available from fringeworld.com.au
Scott-Patrick Mitchell
Image:- Joel Crane