Review | He's Every Woman pays tribute to our favourite divas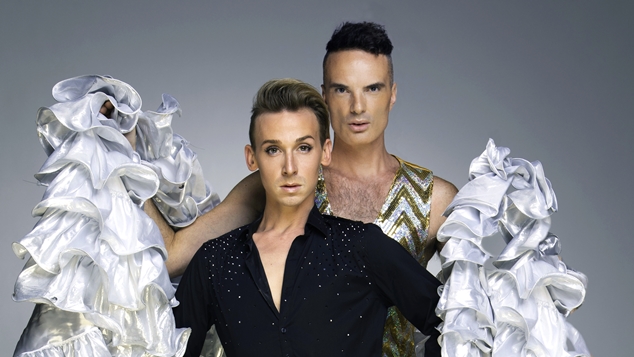 He's Every Woman | Downstairs at the Maj | til 2nd Feb | ★ ★ ★ ½ 
Justin and Jamie are a musical duo with Justin, centre stage, on vocals and Jamie accompanying with vocals and a grand piano. Justin is a powerhouse singer. He capably pulled off singing every song, quite a feat for songs made famous by female divas. He's a showy performer, a real diva and clearly in his element singing songs made famous by the likes of Tina Turner, Tina Arena, Olivia Newton John, Celine and Whitney. Jamie is equally talented on piano but doesn't fade into the background like many pianists. He seemed to delight in sharing the limelight.
You'd be forgiven for wondering what you'd got yourself into early in the show as Justin walked into the crowd, found someone to chat to, sat on his lap and started singing. It was an entertaining moment for the rest of us. However, audience inclusion was relatively minimal and the rest of the show was performed on stage. Other moments of audience participation included some sing a long and requesting we get up and dance for the final number, I'm Every Woman.
The pair banter a lot in between songs and tell personal stories. There were funny moments and entertaining stories throughout the whole show while many jokes fell flat.
The mood was brought down dramatically by a lengthy personal story used to introduce the Tracy Chapman song, Sorry. The moment took away from the show, rather than adding to it.
There was recovery. After a later costume change, Justin entered in a convincing outfit and did a very entertaining Cher impersonation. His vocals, gestures and walk were spot on and the crowd responded with laughter and clapping. I would have loved to have seen more of this from the pair.
These guys are very talented musicians. Their real strength of this show is their musical performances.
He's Every Woman will be Downstairs at the Maj until Saturday 2nd February. Tickets and more information available from fringeworld.com.au
Halimah Halse