Review: Home Open – An Evening of Intimacy
Earlier this year they delivered some of the top Perth FRINGEWORLD theatre in the form of 'Poly', now they're churning out some of the best locally written and directed short plays in the state.
Their most recent innovative instalment has come in the form of 'Home Open: An Evening of Intimacy". Brace yourselves – this is going to take a little while to explain – but it's worth it.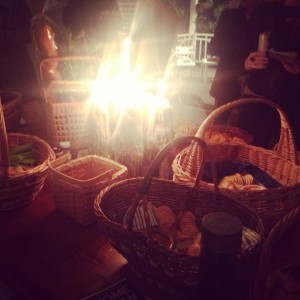 Basically, the team borrowed the beautiful grandeur home of a complete stranger, filled the central kitchen/dining space with candles and complimentary food, and then put on six fifteen minute productions that occurred simultaneously all over the house.
As part of the audience you were designated to one of three groups and assigned an usher, you were then moved from play to play, each as engaging and entertaining as the next.
Out of the six productions, four had queer references; it's safe to say that the next Home Open – and The Cutting Room Floor in general – are remarkably encompassing of the LGBT community in the work they produce.
The six local and independent shows we watched offered huge variety and evoked different emotions, they consisted of:
Ankles:
A story set in heaven that involves an awkward ankle obsession that results in an untimely death. The play shifts from grieving death, to humour, to (another) attempted ankle assault.
Staring into the Sun:
A monologue based around Grindr that involves a huge amount of hilarity and audience engagement, this play was performed in the central meeting point so initially I thought he was just having a random chat with us when we walked in, now that's some convincing acting.
Sex and Flan:
Featuring one of the lead actresses from Poly, this play hones in on Verity Softly's ability at playing coy/dry/witty roles blended with sexual undertones. The funniest play by a long shot, the plot involves what can only be assumed as sex therapy with an attempted happy ended… and flan.
Jack:
A solo performance by one of The Cutting Room Floor's very own Zoe Hollyoak. This performance was incredibly intimate, sitting on the floor whilst Hollyoak performed on the single bed. Audience engagement is definitely an underlying theme throughout the night, a member of the audience gets pulled onto the bed to re-enact a scene from the past.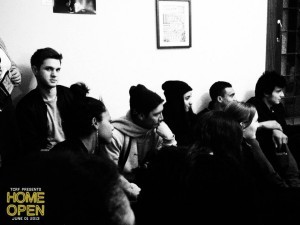 Tom Harry & Dick:
An ocker Australian is confronted with a revelation of love from his best friend. The story, although confronting, manages to include humour and make light out of what is essentially an incredible raw and confronting situation.
Nothing Sweet:
Encountering another of the talented Poly actresses, Amanda Watson, the night is concluded in a raw account of a relationship that is fractured and rapidly derailing. Watson's ability to switch between heated emotions within seconds is intoxicating to watch in close encounters.
If all of the above bundled together provokes undeniable dismay that you missed out, do not fret, its happening all again very soon. Details are yet to be revealed.
Nadine Walker