Review | 'Kiara with a K' is cabaret in its truest form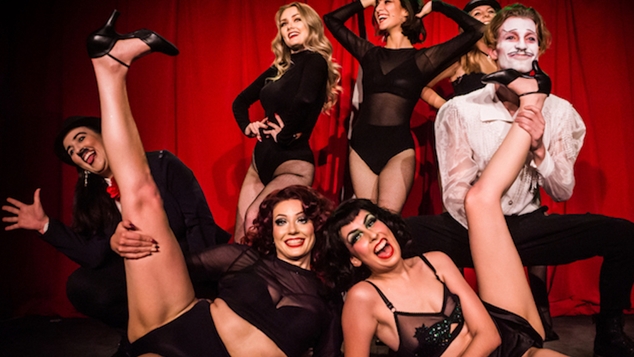 Kiara with a K: BEST BITES | Connections | til Feb 4 | ★ ★ ★ ★ 
Back with another instalment of her hit show, Kiara Macri presents Best Bites of talent, cheese, jazz and ham from herself and her talented cast mates. With a cast including the comedy stylings of Nicola Macri and the cabaret antics of Veruca Sour, this show is truly a family affair.
Despite a slightly frustrating delayed start (resulting in a later than expected finish on a Monday night), Kiara and the team open the show with an enthusiastic and jazz-laden number, showcasing not only Kiara's incredible vocal talents, but effective and synchronised choreography.  With the visual simplicity of the costumes combined with the Fosse-inspired movements, the audience isn't distracted by the sparkle; instead remaining mesmerised by the talent – and rightly so. 
Nicola Macri, a staple in the Perth arts scene, glued the show together with amusing interludes, effortless interaction and often self-deprecating humour, referencing the strong family ties and similarities – and differences – between her and her sisters.  Not only proficient on the mic, Nicola was a tasty morsel on the charcuterie board of talent throughout this show.
Standout performance of the night came from Veruca Sour and Sven Ironside, who gave extreme and entertaining physical comedy and expression, synchronising their energy and taking the audience to the peak of cabaret talent.  The music of Chicago is frequently used in jazz- and Broadway-aligned productions, however, they performers gave a layered performance that entertained the Kiara with a K newcomers as well as the cabaret regulars in the crowd.   While they both shone individually as well, this duo was truly cabaret performance art at its finest.
The manic-but controlled chaos of the finale, planned or impromptu, was a fantastic way to round out a true tasting plate of comedy, cabaret, burlesque, performance art and dance.  If you're looking for a production celebrating Fosse and cabaret in its true form, this is the one you're after. 
Kiara with a K is running until Saturday 4 November. For tickets, head to fringeworld.com.au
Kiera (they/them) is a passionate arts creator and consumer, especially in the fields of cabaret and burlesque. Combining 20+ years of arts experience with numerous research and education-based qualifications, they enjoy sharing their knowledge and experiences.
---

You can support our work by subscribing to our Patreon
or contributing to our GoFundMe campaign.