Review | Leah Shelton is a Bitch On Heat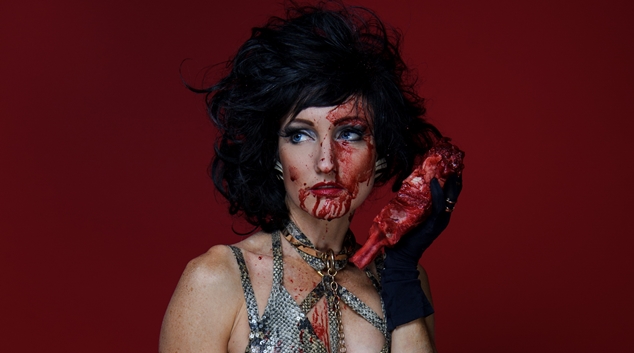 Bitch On Heat | The Blue Room | til 9th Feb | ★ ★ ★ ★ ★ 
A glorious mix of physical theatre, puppetry, and pole-dancing Bitch on Heat is performance art at its best. Every moment of this 45 minute show is executed with the intention of provoking emotion in the audience – from bemusement to anger to a righteous rage that stays with you as leave.
Emerging from the white robes of a Grecian statue, Leah Shelton spends much of her time on stage slowly extricating herself from a rubber sex doll outfit. It's not the only time this costuming has had an outing this Fringe season – she performs an outrageous neo-burlesque for Little Death Club wearing it – but the impact isn't lessened in any way with the repetition.
She has a gift for subversive metaphor continues – a second rubber sex doll outfit appears, and becomes alive through skilled puppetry. The anti burlesque routine which follows has you genuinely believing for a second that the puppet is, in fact, tenderly undressing her. A series of rapid fire, exquisitely timed vignettes follow as she uses her body to express powerful emotions evoked by the historical – and ongoing – oppression of women.
The climax is a ritualistic pole dance around the impaled head of her attacker. It is a strong, joyful performance of victory and survival. For this alone she deserves the standing ovation given at the end of the show.
Quite apart from the genius of Leah Shelton's corporeal mime, the staging and soundscapes are exquisite. Every prop is revealed to have multiple uses and meanings. In terms of sound, listen out for the panting turned giggling sequence as the connections between sexualised victim and societies need for women to remain good girls is revealed through changes in tone and speed.
If you like avant-garde performance art that makes you think and feel, you will love this.
Bitch On Heat will be at The Blue Room Theatre until Saturday 9th February. Tickets and more information available from fringeworld.com.au
Rebecca Bowman