Review | Orbital deliver an excellent show bringing the ravers out of retirement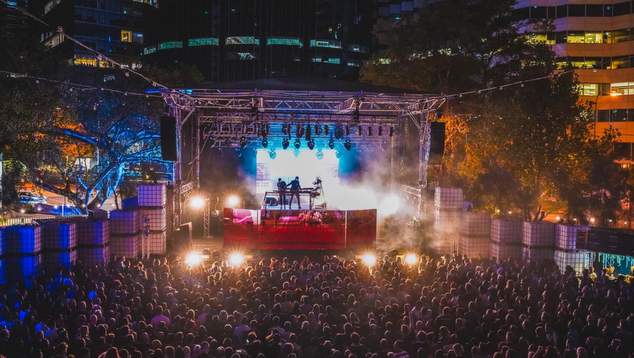 Orbital | Chevron Gardens | Saturday 2nd March | ★ ★ ★ ★
Fans of British electronic band Orbital have waited a long time to experience the duo performing live. Brothers Phil and Paul Hartnoll started putting ut records at the end of the acid house's second summer of love in the late 80's and have returned time and again to drop intriguing albums of electronic dance music. 
Following a slice of local electronic music from Feels, Orbital took the their deck of electronic equipment poised about a giant video screen. Opening up with the incredibly recognisable voice of Professor Brian Cox pondering the meaning of the universe a journey through the brothers catalogue began. 
There Will Come a Time is the closing track of Orbital's most recent album Monsters Exist, It worked well as an introduction to the evening as the Hartnoll brothers appeared as shadowy figures punctuated by headsets with nights on the side of their heads. 
With nine albums of work under their belt the duo have a lot of material to choose from, but opted for a collection of tunes from early in their career teamed up with some of their latest releases. While they ignored almost all of their mid-career input, it was a selection that kept the packed house dancing throughout the night. 
From the crushing vocals of Satan to the melodic Hoo Hoo Ha Ha and the music progressed through a variety of sstyles taking in P.H.U.K. and Tiny Foldable Cities from their latest album, Wonky the title track from their 2012 album and   
The enthusiasm of the crowd swelled as Orbital got into their oldest and most iconic sounds, Halcyon + On + On was well received and it featured an unexpected addition of Belinda Carlisle's Heaven in a Place of Earth being worked into the closing of the track.  The band finished off with one of their most well known numbers Belfast, its mix of dance beats and operatic vocals perfectly matched with the a magical video and lighting accompaniment. 
A short encore saw the band deliver Vision on an E from their latest album followed by the song that launched their career Chime. The two bookends of their career showing that they've delivered cutting edge and quality music for three decades.      
Graeme Watson, Images: Tashi Hall
---