Review: Other Desert Cities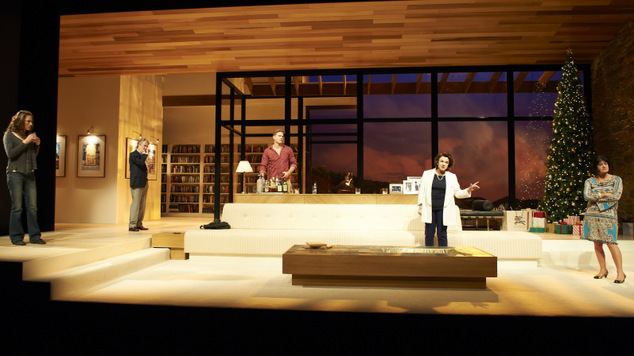 What would happen to your family if one member decided to share your darkest moments with the world? Furthermore what if the way they remember your actions, is not how you see yourself? That's the central question presented in 'Other Desert Cities', an ambitious production from Black Swan State Theatre Company.
Jon Robin Baitz's play 'Other Desert Cities' saw him return to the Broadway stage after a long sojourn into the world of television where he worked on television programs like 'Alias', 'The West Wing' and 'Brother and Sisters'.
The Broadway production earned Judith Light a Best Supporting Actress Tony Award, and the performances of Stockard Channing, Stacey Keach and Tomas Sudowski and Rachael Griffiths received wide acclaim.
While the Australian production can't boast such star power, it's not the quality of the acting that makes it challenging to get into this local production but the leap we as an audience need to make to immerse ourselves in the setting of Palm Springs, California and its battles of left and right wing political ideologies.
We join the Wyeth family in the luxurious Palm Springs home on Christmas Eve. Lyman Wyeth is a well regarded actor from years gone by, his wife Polly used to write comedies from MGM back in the 1960's with her sister Silda. Silda's just out of rehab and joining the family for Christmas, as are their two children Trip, who hosts a TV show and Brooke, who has just completed her second novel.
The family play games of tennis, grab some sun by the pool, mix drinks at the bar and plan to have the dinner at the club later. As the family discussion progresses the political division between the Republican parents and the more liberal other half of the family is revealed.
The daughter Brooke reveals that after a six year hiatus she's completed her second novel, but this time rather than a fictional work, it's an autobiographical recollection of her childhood including the family's darkest secrets about a long lost older brother. The revelation kicks off an inquisition into who did what, who has the correct recollection and slowly we reveal who these individual characters actually are.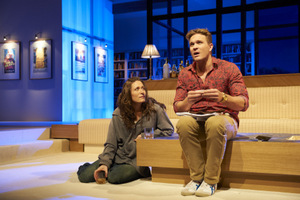 From an Australian perspective it is a challenge to see these characters without looking through the lens of a 'The Bold and Beautiful' episode. Our ideas of Southern California are so informed by television rather than actual people we've met. With each long silence and pensive look in this production we slip more and more into a slightly soap filled world.
The set is impressive, a giant sunken den with a real fire, a massive bar. The staging has great depth and clever lighting creates the believable impression that outside there is a pool, tennis courts and giant blue skies. Yet, as the characters stand at great distances on this giant set – on one hand they mirror the emotional distance there is between the characters, yet on the other hand it drops them back into that soap opera world where people stand in strange places while they talk while staring off into the distance.
What does make this story hold its head above water though is its clever dialogue, there are lots of clever one-liners and the interactions between these very different characters is intriguing.
The first half of this play is largely introducing us to the characters and their back stories. It's after the interval that all the action really kicks in.
Robert Colby delivers an impressive performance as Lyman. Watching Coleby's portrayal of the uptight cravat wearing father I couldn't help but wonder what life must have been like Ronald and Nancy Regan's children. Janet Andrewartha succeeds in the role of Polly showing a great transition from a presentation of a good stiff upper lip to revealing a very different character suppressed underneath and Conrad Coleby has all the best lines as the youngest member of the family.
Rebecca Davis captured attention as Brooke, a challenging role which she pulls off, carefully balancing the character traits of a woman with a history of mental health issues and ambitions as an author, it would be easy for this character to come across as needy, brattish or uncaring but Davis portrayal creates a character that we genuinely care about. Vivienne Garrett takes on the role of sister Silda, who could easily become just a great piece of comic relief but Garrett makes her into something more.
'Other Desert Cities' is yet another great production from Black Swan Theatre Company, riding high this year with a series of popular but provoking theatrical productions.
'Other Desert Cities' is on at the Heath Leger Theatre at the State Theatre Centre until 4 August 2013. Buy tickets from Black Swan State Theatre.
Graeme Watson, images: Gary Marsh