Review | Sex bots and hard feminism in Future's Eve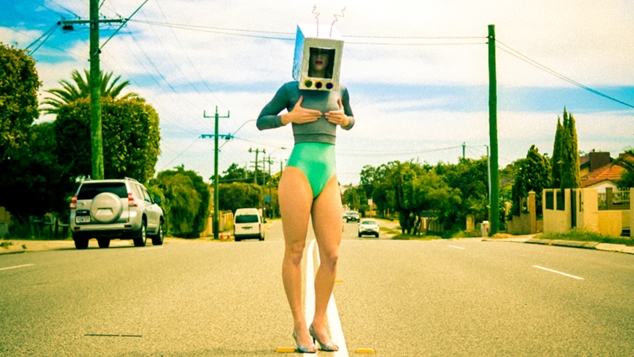 Future's Eve | Paper Mountain | ★ ★ ★ ★ ½
Before I went in I was hoping that Future's Eve was going to be some kind of gay show about time travel. It was not that. Definitely not that. Aitken's show is shocking and surprising and in a medium I can only describe as 'physical art'. It's not quite dance; not quite theatre. A little of both, and mostly none.
She describes the rise of sex robots in the public consciousness and discusses whether the existence of 'woman-shaped objects' (a phrase that I now intend to use, ironically and otherwise, at every conceivable opportunity) impacts significantly and negatively on the expected roles of real women in relationships.
Aitken herself has a magnetic aura about her – a distinct vibe around her like the one cool person you meet in a tutorial, or at a party, you're introduced but you never achieve that spark of conversation. The semester ends, daylight breaks over the party, and the two of you never cross paths again. You spend several months imagining all the cool conversations you could have had with this cool person until the not-memories begin to wear away and you stop being so weird.
One of my favourite aspects of Aitken's show was how she leaned into the restraints and the features of her performance location. The seating was deeply intimate, so much so that as she threw balloons into the audience (balloons that represented men who had abused a display model of a sexbot) and began popping them with wild abandon while encouraging us to do the same, I felt the man to my left squirm with discomfort and I felt a surge on glee on Aitken's behalf.
There was minimal audience participation, but the close seating meant that our emotions and reactions poured out of us and mingled in the air, and we drank the concoction down in frozen, wondrous silence.
Out in the reception, there are no male and female bathrooms, just a small room with two cubicles marked 'pangender toilet'. Was this surprising progressively bathroom label and the deep, feminist message linked? Probably not, but I hope so.
The show proper was fantastic, but I wish I'd seen more of the Roomba. For a show that advertised itself as 'one woman, one roomba' I would've wanted to see more done with it, although I did think it was excellent that Aitken and her Roomba have matching charge pods.
My one other note is that the show's finale could use some tightening up, it seems to be suffering from the show-illness of four or five segments back to back that all feel as if they're meant to be a final scene, and then the show keeps going. I was, however, relatively pleased that there was more show.
There is so much more I want to say about the show: the subject matter is deep and raw and reveals a complex and sophisticated view of how feminine and vagina-oriented sexuality is shunted aside to prioritise masculine and penis-oriented pleasure, the many issues of consent between men, women, non-binary, and women-shaped objects.
I enjoyed every second of Aitken's performance and I am highly confident that she can only grow stronger and even more electrifying as an artist.
Finley Hoskins 
Futures Eve runs until the 11th of Febuary, so make sure you don't miss out. Tickets are available from the Fringe World website.
---
Support OUTinPerth
Thanks for reading OUTinPerth. We can only create LGBTIQA+ focused media with your help.
If you can help support our work, please consider assisting us through a one-off contribution to our GoFundMe campaign, or a regular contribution through our Patreon appeal.