Review | SPIT brings exquisitely stripped-back circus to Perth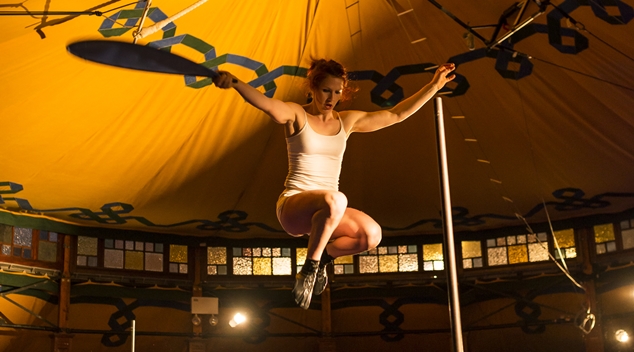 SPIT | The Black Flamingo | til 13th Feb | ★ ★ ★ ★ ★ 
I have been left in awe of the skills and inventiveness of the several circus performances with aerial acts I've seen at this year's Fringe World Festival. The level of professionalism has been outstanding – with state of the art sound systems, exquisite costumes and superbly timed, engaging, athletic performances entertaining huge appreciative audiences.
In contrast, SPIT is in one of the smaller tents of the festival. The solo performer wears a blood-stained white singlet and black shorts, and cues her music on her phone. Described as a celebration of the fierce and the wild, this stripped-back performance is not lacking in engagement as Angelique Ross weaves a mesmerising story and hypnotises with her incredibly piercing eyes.
The intimate performance with attitude does have accomplices in the form of an ample supply of tomatoes and a blender. Starting off with her eating and spitting out a tomato into a blender, there was never a down moment in the thoroughly engaging show. Ross has great skills – from tight rope walking in red high heels to an array of party tricks with empty wine bottles. She juggles and dances and performs on the aerial swing while continuing to tell her story.
After touring internationally, this is Ross's first solo show in her hometown of Perth. Apart from being thoroughly engaging and entertaining, the great thing about this messy "circus revenge" is that the performer kept her clothes on. There is no swearing, no inevitable 'wedgies' and the show is full of side-splitting humour. I can't fault it.
Spit at The Black Flamingo in Yagan Square 2 – 13 February. Tickets and more info available from fringeworld.com.au
Lezly Herbert