Review | Sudden Skies are cloudy in a bold and experimental piece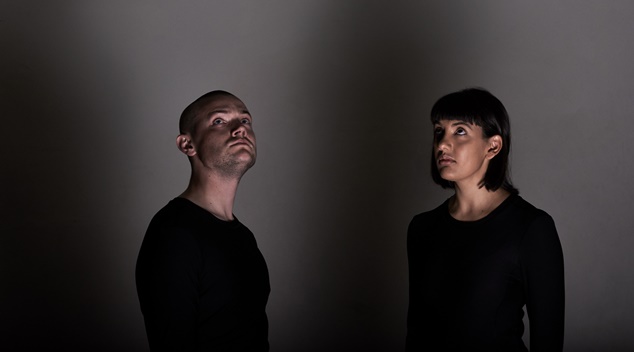 Sudden Skies | The Blue Room | til Feb 24th | ★ ★ 
Sometimes my friends and I play a game where we point out random objects on the street, a trolley for example, and deconstruct it, coming up with elaborate and patently false ideas of what it could mean. Maybe it's the English teacher in me, maybe it's years of wading through texts in my Arts degree, but I figure that if anybody could have made sense of this show, I'd have had a pretty good shot. I was wrong.
Sudden Skies is a bold and experimental theatrical piece that decides to explore too many big issues in all the wrong ways. It was only after the show ended that I realised the show was an exploration of the refugee crisis in a post-apocalyptic world, presumably caused by climate-change. How did I figure that out? Well, despite gleaning pieces of this from the performance, it was the Fringe website that told me.
The audience walks in, the two actors, Haydon Wilson and Anne-Marie Biagioni, stand face down in the darkness. Three large-grey gates are dotted around the stage, strange inscriptions cut into their side. Atmospheric music rumbles through the crowd, the sound of thunder crashes to bursts of light, and initially I'm quite excited to see something that promises to be so dramatic. And dramatic it was, but in all the wrong ways.
What follows is fifty minutes of acting, singing and dancing their way through an extended metaphor that attempts to communicate important ideas about these broad issues. But the piece is so sparse in dialogue that a plot is barely present. Instead at (presumably) pivotal moments, the actors divert into using wordless sign-language that is barely comprehensible, save a few words.
Biagioni's performance is stronger than Wilson's, though too dramatic at times – sometimes subtlety is the name of the game. Wilson could use with some of Biagioni's drama though, his performance was much too restrained, as if he were only acting with half-his body at any one time. The high point however was the singing from Biagioni, who delivers an ethereal and affecting piece, which did more in a minute or so to make me empathise with her character (the refugee, presumably) than the other fifty or so minutes. Think the soundtrack of the Gladiator meets Whalerider's.
Although the show should be praised for wanting to raise attention to extremely important issues, it needed to make sure it was understandable, its characters relatable and its plot present. Both the lighting designer and sound designer did an excellent job. But repeated, stunted dialogue and incomprehensible dances just don't cut it. In the end we are left with more questions than answers, more confusion than message. And if people wouldn't sit down in the comfort of their own home to watch this for free, for fifty minutes, then perhaps it's not worth doing it in this format.
Sudden Skies is running until February 24th. For tickets and more info head to fringeworld.com.au
Craig Campbell
---
Support OUTinPerth
Thanks for reading OUTinPerth. We can only create LGBTIQA+ focused media with your help.
If you can help support our work, please consider assisting us through a one-off contribution to our GoFundMe campaign, or a regular contribution through our Patreon appeal.