Review | Tamagotchi Reset & Other Doomsdays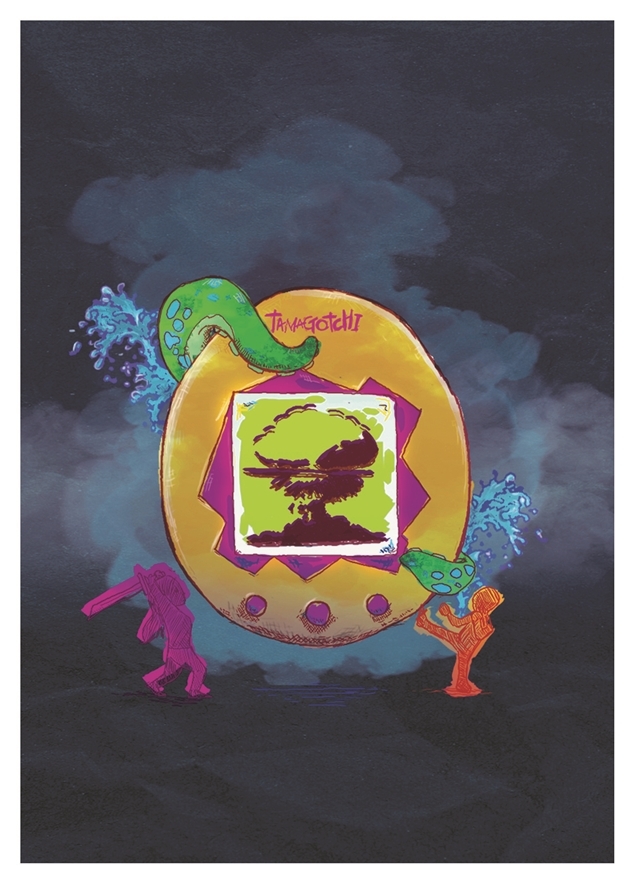 Tamagotchi Reset & Other Doomsdays | The Blue Room Theatre Ends July 8 | ★ ★ ★ ★ ½
I had a pet Tamagotchi once. It took me a few months of psychologically preparing myself for the commitment because, y'know, Tamagotchi's die and all. So it hatched and pooped and was fed and grew. Each day I prepared myself for the loss: its death. But it lived, grew and grew…and then 'left'. Yup, I won. It was a sad victory. Very anti-climactic. Thank the gods Tamagotchi Reset & Other Doomsdays is anything but anti-climactic.
This sharp-witted, quick paced exploration of our obsession with our own Apocalypse is a hilarious feat of theatre. Tamagotchi Reset is written by Finn O'Branagáin and Scott Sandwich, the same minds that rocked last year's Blue Room with The Epic. This new work has been dubbed a 'factual spectacular' and it's honestly like a TED talk on acid…a romp through multiple end-of-the-world mythologies from the actual to the fictional. The best part is, Tamagotchi Reset doesn't come with a psychedelic comedown. In fact, quite the opposite: this play is strangely uplifting. Strangely.

It begins with Y2K with all the vigour and verve of adolescent nonchalance before cartwheeling back to the dinosaurs before stopping by Easter Island. As your TED-talking time travelling teachers, you've got Finn and Scott (the name of the characters plus the name of the writers…who aren't the actors…it's all very meta and fabulous), whose chemistry is electric and frenetic. And each apocalypse is cushioned in humour and some outstanding lighting design.
The highlight of the show is when Scott (played by Izzy McDonald) begins talking about Alien Carl Sagan popping by Earth to check out the ruins of humanity. This moment of the show has some deeply profound poetry to it, a momentum of heartache that is palatable. The width of breadth of what it means to be human – our brilliance, our ability, our absurdity – is articulated with mesmerising aplomb. If you don't shed a tear at this point…well, you ain't even an Alien Carl Sagan.
Heartbreak also hits when Finn (played by Paul Grabovac) discusses the extinction of the bramble cay melomys. People may not be aware of this event and the true impact that climate change is having, so for this very reason alone – like, if you just had to Google what a bramble cay melomys is and then went awwwwwwww at how damn cute they are – I recommend you see this show. But be warned, this segment might induce a twang of existential hopelessness.
Don't worry though: larger than life mythological deities like Cthulhu and Sekhmet are on hand to bring raucous entertainment back into your heart. In fact, for all the heartbreak this show has, it serves up plenty of hope to balance it all out. And it's interesting because the very things that make our characters noble become their shortcomings as the pressure of global warming and imminent ecological disaster rises in their minds like sea levels. Don't choke on the saltwater, the despair: just keep swimming.
At the end of it all, Tamagotchi Reset & Other Doomsdays will leave you thinking and feeling stuff and things that you really ought to be thinking and feeling. Immense, intense and filled with brilliance, this show is a must-see. So book a babysitter for your Tamagotchi and get ready: The Apocalypse can't wait to meet you! Say hi to Cthulhu from me!
Tamagotchi Reset & Other Doomsdays will be at The Blue Room Theatre until July 8th. Tickets and more information available from blueroom.org.au
Scott-Patrick Mitchell
Please note that this show does contain the occasional use of strobe lighting.
---
Support OUTinPerth
Thanks for reading OUTinPerth. We can only create LGBTIQA+ focused media with your help.
If you can help support our work, please consider assisting us through a one-off contribution to our GoFundMe campaign, or a regular contribution through our Patreon appeal.