Review | 'The Australian Dream' is a timely reminder of the power of community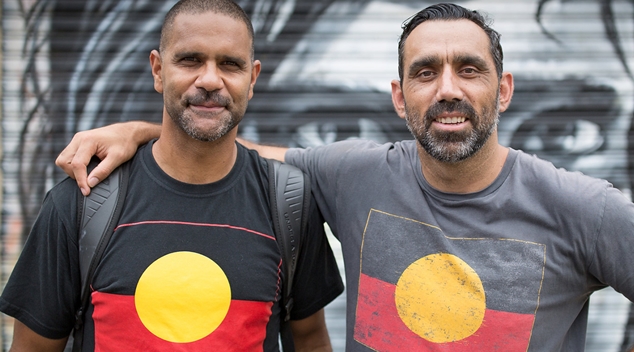 The Australian Dream | Dir: Daniel Gordon | ★ ★ ★ ★ ★
The Australian Dream is the second documentary to be made about Indigenous AFL player Adam Goodes this year and follows the release of The Last Quarter. Directed by Daniel Gordon, it tells a powerful story about race, identity and belonging as well as asking fundamental questions about the nature of racism and discrimination in Australia today.
As Daniel Gordon has said, the story is both engaging and enraging. At the centre of the story is the talented and dignified sporting hero Adam Goodes who was celebrated and respected, yet hounded out of the sport he loved by racial bigotry. "And they didn't just force him out. They racially abused him out."
Goodes was a shy country kid who thrived on the footy field where the colour of his skin didn't matter. Winning two Brownlow medals and being an inspiration to many didn't stop him being targeted by racial abuse during the game and suffering a public backlash lead by ignorant bigots. This was about something greater than sport. As Stan Grant has said, "Sport has a way of really capturing the essence of what's happening in society."
Writer Stan Grant notes that in the winter of 2015, Australia turned to face itself and it happened in that place most sacred to us: the sporting field. Indigenous footballer Adam Goodes, one of the greatest players of his generation, was abused and humiliated until he could take no more. "As this man retreated from the field, Australia was forced to confront the darkest parts of its own history."
Fusing interviews and archival footage, The Australian Dream looks beyond the pivotal personal incident, as Goodes does, to the hope that Australians can do better. Goodes bravely gives an extremely moving wake-up call to show there are ways to remove the ugly smear of racism from the Australian identity.
In speaking out about racism, Australian of the Year Goodes asks Australians to confront the deep-rooted underbelly of racism that casts a shadow over large sections of the society. As Chiwetel Ejiofor says, this film is "a brilliant and timely reminder of the importance of community and the power of sport for the dream of a tolerant society."
Lezly Herbert
---