Review | 'The Madonna Circus: Reinvention' – Better than MDNA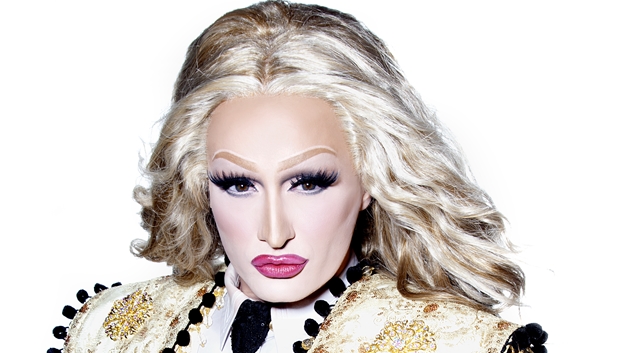 The Madonna Circus: Reinvention | West Australian Spiegeltent
til 17th Feb | ★ ★ ★ ★ ★ 
Drag Madonna and drag Cher battling it out in a "lip-synch for your life" situation onstage with Mr Pole World 2014 (Blue Phoenix), Mr Boylesque Australia 2017 (Karl Kayoss) and a host of other acrobatic hotties from all genders… it doesn't get much gayer than that!
Perhaps it was the fantastic soundtrack of familiar Madge favourites merged with lesser-known but just as awesome, album tracks (or perhaps it was the Chenin Blanc the BF and I had consumed in the queue), but Madonna Circus in the West Australian Spiegeltent was one of the highlights of our Fringe festival.
Opening with the full team of talent filing on to the stage in a classic combo of matching gold jackets and hot-black-sexy-tight-shit, the production values tone had been set with fantastic contemporary dancers busting some serious, tightly rehearsed moves to Vogue, (go miss purple-hair, whoever you are, you rock) framing the inimitable main stars of the show Perth drag icon Barbie Q and Cher-loving Delvira Midnight.
What followed was more Chenin Blanc, then, a menagerie of well-styled, tightly rehearsed cabaret, circus and acrobatic routines from Kinetica's hot pack of acrobats, Aerialists, dancers and tumblers, not to mention a fantastically erotic (literally) trouser-twitching Pole display from Blue Phoenix who's limbs do not, apparently, have connective tissue.
A hilarious and crowd-pleasing mash up of Cher (Delvira Midnight) and Madonna (Barbie Q) followed, which was a true masterclass of good drag at its best, again enhanced by their diamond team. Sultry classic Erotica, 90's banger Nothing Really Matters and others linked the segments beautifully.
The night drew to a close with the iconic Like a Prayer woven into a tight clap-along routine with all performers present. The evening was perfected with a warm and fuzzy photo op with the two ladies themselves outside the tent.
Wine, Madge, Cher, boyfriend and hot circus boys and girls… What's not to love?
We're going back for side B!
The Madonna Circus: Reinvention is on util 17th February, tickets are available from Fringe World.
Tom Pearson
---