Review | The Nature of Why is inclusive, immersive, incredible theatre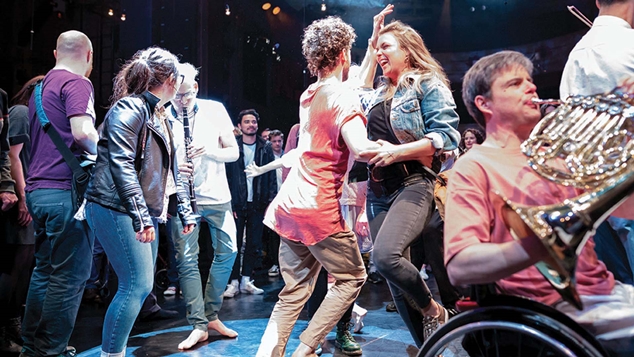 The Nature Of Why | State Theatre Centre | til 23rd Feb | ★ ★ ★ ★ ★ 
When shared, play allows us to create a place where the stodgy rules of an outside world no longer apply. For a little while, at least. It allows us to suspend ourselves, our beliefs. Our bodies slip into a state of wonder and joy. It holds us as we hold each other in a set of new rules, rules that prioritise wholesomeness and inclusivity.
Play is at the heart of The Nature of Why, an immersive show that brings musicians, dancers and audience members onto a shared stage and allows them to co-exist and co-create. As such, this is a standing show. But it's also a swaying show, a "changing locations to engage from different angles" show. And, ultimately, a dancing show – even if you just bop on the spot – one where everybody has permission to take up space, to play. 
The Nature of Why brings together The British Paraorchestra, members of Perth Symphony Orchestra's string section, four dancers and you – the audience – to create an event that is so incredible you truly have to experience it to appreciate the true magnitude of its beauty.
Written by composer Will Gregory, this show explores the work of American theoretical physicist and 1965 Nobel Prize winner Richard Feynman. This scientist was known for asking, unabashedly and with certainty, the one question we learn to ask persistently as children: why?
In particular, The Nature of Why uses Feynman's spontaneous lecture on why magnets repel each other as its basis. And to great effect. Bodies slip across the stage. They bristle in the same manner iron filings might when in the presence of great attraction. They even align, all the while propelled by the sonic energy of sopranos Victoria Oruwari and Joanne Roughton-Arnold. There is a charge to this show, a wonderfully inclusive charge that uplifts the spirit. 
Choreographer Caroline Bowditch has to be thoroughly commended for creating some truly sublime moments between the dancers and the roaming musicians. There is one instance where a double bass sprouts legs and strides across the stage, all the while still being played.  In another moment, a dancer becomes a chair for a violinist. Surreal yet so welcoming and familiar, these moments make the heart ache with their playfulness.  
But the most incredible moments of this show have to be when the audience become part of the play, the dancing. At times this is as simple as the dancers wrapping themselves around an audience member. In other instances, the simple notion of a dancer holding an audience member's hand becomes so profoundly beautiful that the more adventurous among you will actively reach out to participate. And you should… that's what this show is about.
The Nature of Why is, fundamentally, beyond description. This is immersive theatre at its most experiential. To witness so many audience members grinning is worth it alone. But it's those moments where the beauty overwhelms to the point that you feel joyous tears trickling down your cheeks that makes The Nature of Why and an absolute must-see. After all, this work will hold you, tenderly, both in the moment and the days afterward.
The Nature Of Why will be at the Heath Ledger Theatre until Saturday 23rd February. Tickets and more information available from perthfestival.com.au
Scott-Patrick Mitchell