Review: The Tiger Lillies Perform Hamlet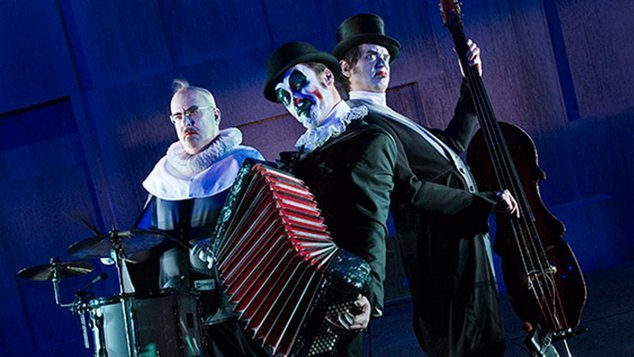 The Tiger Lillies Perform Hamlet | Regal Theatre | Until Feb 21 |★ ★ ★ ★ ★ 
Any new work based on Shakespeare groans beneath the sheer volume of previous interpretations. To justify its addition to such a crowded field, any such project has to find a new way of presenting the lyricism and insight of the endlessly quoted words, of having the well-worn plot strike the audience as though they'd not seen it before. This is not a responsibility you can accuse the Tiger Lillies of ignoring.
Their Hamlet is a bold, inventive, sexy, blackly comic and surreal delight. The outrageous fortune that befalls our titular troubled Dane (played stirringly by Caspar Phillipson) is narrated, musically, by Lillies lead singer Martyn Jacques. Donning skeleton make-up, singing in a high, dandyish, carnival bark over broken down circus music, reminiscent of Tom Waits at his most mournful, Jacques is a pitiless companion for our doomed protagonist, flitting between wry amusement and weary irritation at the goings on in rotten Denmark. This is not to say the songs entirely lack sincerity – the accompaniment to Ophelia's death (no, you don't get a spoiler alert, it's Hamlet) is quietly beautiful, restrained, and deeply felt.
Visually, the show is sumptuous; the use of colour is perfect, the set is magnificently deployed, and there is a sleight of hand in the way characters disappear and reappear from various doors and curtains which is thrilling and disorienting. This is not just clever for the sake of it, each visual flourish heightens and illuminates a character or plot point. When the ghost of Hamlet's father returns to reveal the circumstances of his death, he appears as a face projected onto the naked flesh of the cast, and as his speech progresses the image narrows until it covers just the face of Hamlet. The effect is surreal, striking. Haunting. When Jacques describes Hamlet growing madness and says, with slow, malevolent, relish 'and that's what makes him a very. Dangerous. Man', the set, previously lit blood red, drains into a chilly blue. This elicited from the audience a scatter full-throated laughs, nervous titters, and just as many gasps. All these reactions were correct. I could go on, but the endless visual invention is a huge part of the fun, and I wouldn't want to spoil it.
The Tiger Lillies have taken one of the world's most famous tragedies and somehow painted it darker. The songs are relentless bleak, dealing exclusively in death, suicide, futility and slavery. Their take appears designed to squeeze every last drop of black futility from the text. So it says a great deal about how funny, compelling and lively the actors and musicians have made this sea of troubles that the audience left the theatre so palpably elated.
Charlie Domville-Lewis
The Tiger Lillies Perform Hamlet will be at the Regal Theatre until February 21st. For tickets or more information about this show, head to perthfestival.com.au.