Review | 'The White Crow' doesn't fly as high as its inspiration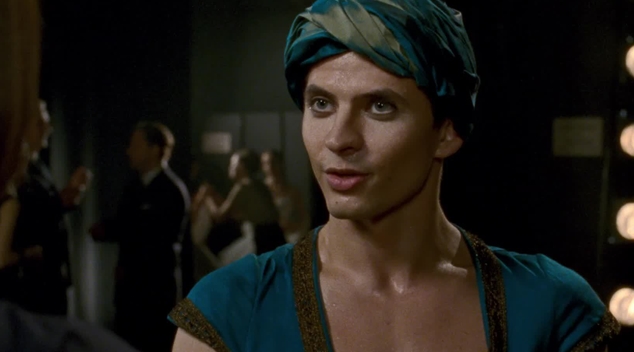 The White Crow | Dir: Ralph Fiennes | M | ★ ★ ★ ½ 
The White Crow, the third film to be directed by Ralph Fiennes, is a drama about the legendary Russian ballet dancer Rudolph Nureyev's defection to the West from the Soviet Union in 1961. Fiennes also plays Nureyev's patient teacher and mentor Alexander Pushkin in a stand-out performance complete with extended Russian dialogue.
As the young Nureyev, Ukrainian dancer Oleg Ivenko looks great at certain angles. My disappointment, having seen the Nureyev when he performed Romeo and Juliet in Perth in 1977, was that Ivenko lacks Nureyev's fiery charisma and his unrefined but dazzling brilliance that set him apart from other dancers.
The androgynous bisexual Nureyev certainly had animalistic sex appeal as well as a fiery temper which became worse as he got older. He was known for breaking rules, his egocentric behaviour and his rudeness.
Modelling his dancing style on the female dancers, he wanted to be the centre of attention – to leap and pirouette as they did, rather than just stand by supporting them. Admittedly, he hadn't reached that point when he became the first dancer to defect to the West.
Fiennes recreates 1961 Paris with nostalgic sepia lighting as Nureyev and the rest of the Kirov Ballet Company arrive on a mission to show off Soviet culture and superiority with a 5 week season of dance. This is in contrast to the bleak black and white flashbacks of his impoverished childhood and his first steps into the world of dance.
Concentrating on the drama rather than the dancing, Cold War Russia has KGB men following Nureyev as he takes in culture of Paris and the best that capitalism has to offer. The stand-off between Nureyev and the KGB men at the Le Bourget Airport becomes the highlight in this restrained biopic of the man that would permanently change expectations of male classical dancers.
It was my initial reaction, but several reviewers have commented that it is difficult to make a film about Rudolph Nureyev without Nureyev who died in 1993 at the age of 54 of complications from AIDS.
Lezly Herbert
---