Review | Truth-telling cuts to the core in 'Jurrungu Ngan-ga [Straight Talk]'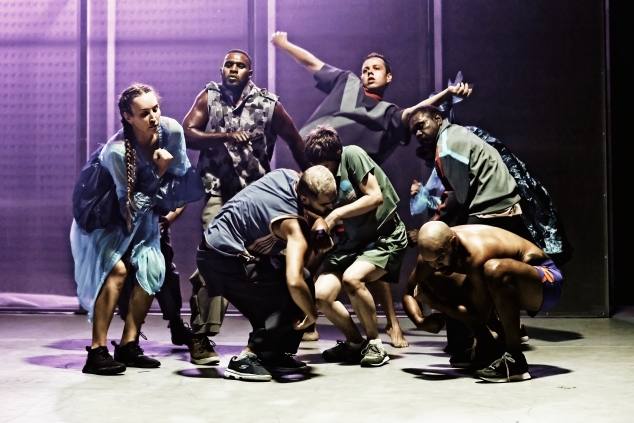 Jurrungu Ngan-ga [Straight Talk] | State Theatre Centre of WA | til 23 Sept | ★ ★ ★ ★
Warning: This story contains details of police violence and deaths in custody, which might be distressing to some readers. For 24-hour crisis support and suicide prevention call Lifeline on 13 11 14. For Australia-wide LGBTQI peer support call QLife on 1800 184 527 or webchat.
Give it to me straight. Tell me honestly. Be real with me. These prompts unknowingly hang in the air ahead of the opening of Black Swan State Theatre Company's latest production, inviting the performers to seize a burning opportunity to speak their truths.
Devised and created by acclaimed Indigenous-led dance company Marrugeku, based in Broome, Jurrungu Ngan-ga [Straight Talk] explores the intersecting experiences of Aboriginal and Torres Strait Islander peoples and displaced people seeking refuge in this country, set within "the prison of the Australian mind."

Jurrungu Ngan-ga brings together some formidable leaders, advocates and creators, including Yawuru leader Senator Patrick Dodson, former Manus Island detainee and author Behrouz Boochani, Iranian-Australia scholar Omid Tofighian, alongside Marrugeku's Artistic Co-Directors Dalisa Pigram and Rachael Swain, to create an inter-cultural work that offers a mighty condemnation of Australia's racist, oppressive systems of incarceration, through the baring of souls and sharing of oft-buried truths.
Opening on what at first glance would appear to be a simple set, it takes just a moment for the bare stage to transform before our eyes. Clever and carefully choreographed camera and projection work puts the audience directly in the chair of a prison security office. A view from the top.
The production immediately thrusts audiences back to some of the most horrific moments of recent history. The death of George Floyd at the hands of US police. The harrowing images of restrained children from the Don Dale Detention Centre. The heart-rending cry for help heard around the world: "I can't breathe." This performance was originally devised ahead of COVID-19, with Floyd's story serving as a catalyst for these creators shine a light on Australia's own deadly injustice. So, it is local stories at the core of Jurrungu Ngan-ga. These stories are told in a blended performance of contemporary dance and direct-to-audience storytelling, through monologue, song and occasional dialogue.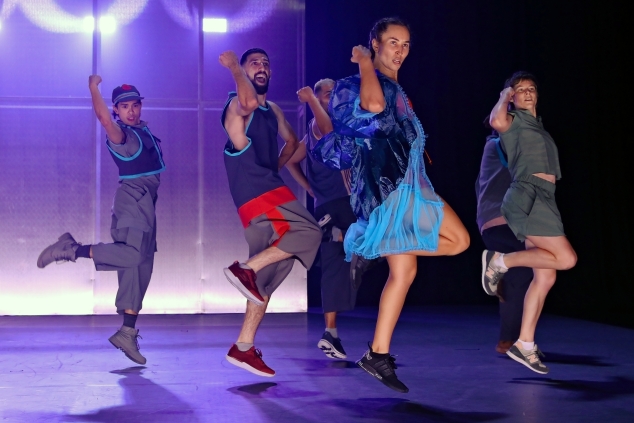 That storytelling is where Jurrungu Ngan-ga reaches the extraordinary. Each of these performers open their hearts to the audience, sharing stories from the depths of their being. These stories feel unscripted, adding to the weight what's unfolding on stage. It's clear these performers are giving it to us straight from the heart, exploring their lived experiences as Aboriginal and Torres Strait Islander people, as refugees and as queer people among these communities.
Among those stories are the memories of those who have been lost to these systems. The names of those who died in the care of the Australian state. A raw, pivotal moment features these names being spoken, along with their cause of death, met with howling cries of sadness across the audience. This pain runs deep, and it echoed throughout the State Theatre Centre for all to hear and feel.
Ballroom icon and trans performer Bhenji Ra was a particularly remarkable storyteller and a stand-out in this work, sharing her pride in the art of vogueing, the strong queer family structures of the ballroom scene and the power found in the defiant joy of dancing in the face of oppression and loss. Bhenji leads a raucous dance riot at the heart of the show that epitomises that power. A resilient happiness that cannot be crushed. It will not.
Jurrungu Ngan-ga offers some timely, illuminating truth-telling as the nation is embroiled in yet another campaign that pits human lives, hearts and minds against the powers of wilful ignorance, misinformation and pervasive racism. The most basic way we can offer respect is to listen. To hear people's stories, heed their advice and make space for people with lived experience to take the lead as we move forward together.
Jurrungu Ngan-ga is a generous offer to glimpse into the lives of these artists. To hear their desires, their heartache, their secrets, and their stories. All they ask is that you listen.
Jurrungu Ngan-ga [Straight Talk] is playing at the State Theatre Centre of WA until 23 September 2023. For tickets and more information, head to BSSTC.com.au
Leigh Andrew Hill, images: Prudence Upton
---
Do you need some support?
If you are struggling with anxiety or depression, support and counselling are available from:
QLife: 1800 184 527 / qlife.org.au (Webchat 3pm – midnight)
QLife are a counselling and referral service for LGBTQIA+ people.
DISCHARGED: [email protected] / discharged.asn.au
Discharged is a trans-led support service with peer support groups for trans and gender diverse folks.
Lifeline: 13 11 14 / lifeline.org.au
Beyondblue: 1300 22 4636 / www.beyondblue.org.au
---

You can support our work by subscribing to our Patreon
or contributing to our GoFundMe campaign.