Review | Unveiling: Gay Sex for Endtimes is something else… and more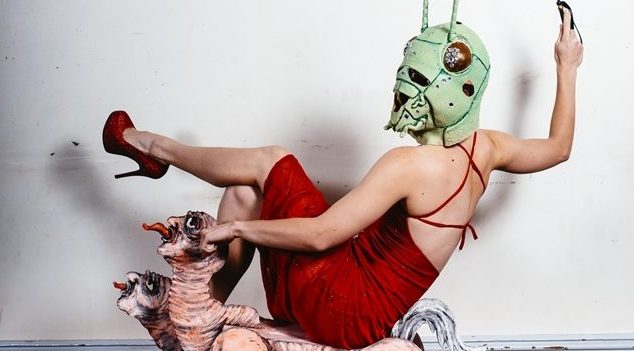 Unveiling: Gay Sex for Endtimes | Blue Room Theatre | til Aug 25 | ★ ★ ★ ★ ½
Oh my, this show is certainly something else… and then some.
Unveiling: Gay Sex For Endtimes is a heady, visceral romp through personal and biblical Revelations. It's filled with locust queens, bodily fluids and so much queerness you could poke a… well, whatever you poke at it, it'll end up moist. No, not moist… soaked. No… actually, drenched. Yes, drenched.
Directed by Joe Lui (who revels in how he inserts himself into this work), this show is a surreal exploration of LGBTIQA+ identity in a world collapsing in on itself, a world filled with love, loss, bitterness and sex. To pin down a clear narrative – to say it moves from A to B to C – is to do this show a great injustice. Unveiling is, instead, an experience. An explosion. A rich intertextual melange. I would even go so far as to say that it's a love song for solidarity but – and here you'll have to excuse the musical references – I'd rather replace "song" with "hyperballad". Nope, sorry… it's more like "machine gun fellatio": when this show shoots, it does so hard and fast. And, at times, it will blow your mind.
Essentially the show revolves around two souls, locked in a Purgatory of their own perversion, being mercilessly judged. Nothing these two actors do and express is good enough: everything scores them a zero, a big fat unholy hole. And my word do these two actors push the limits. And wonderfully so. There is a rich texture to their acts, which at times revel in the demeaning, at other times drag the audience laughing and clapping into pure comedic delight. But ultimately, salvation comes from baring their souls until they are both raw, throat-sore, egg-flinging and dripping in fake semen and blood.
That's about all the plot I can really give away. Essentially, Unveiling is so much more than this. So so so much more. Queer identity is passed form mouth to mouth, sometimes the lines emerging as a parrot, other times as aching and sincere, broken with humanity. Clothes – for the actors (big kudos to Andrew Sutherland, Jacinta Larcombe and Michelle Aitken by the way) – are completely optional: by and large, nudity is the norm, so much so that their nakedness ultimately disappears, leaving just humans, burning with being. And yes, there are overt and at times quaintly vulgar displays of debauchery, but even these are subverted, stripped of their passion, left as performative and perfunctory.
And this is what Unveiling ultimately does best: it subverts. This is not the kind of theatre you'd take your mum to, by any means. But if you did (and if she could get past the strap on's, the bouncing genitals, the oh so delicious sacrilegious-ness of it) then even she would see moments of beauty within Unveiling. She'd probably need to lay down afterward, or pop off to Confessional, but there is no denying the audacious gorgeousness lurking in this work. Particularly the symbolism and meta-ness of it. At times it pushed so hard it was felt like it was performing frottage on my thoughts.
So yeah… if you want something that is set to stun, this is it. Unveiling won't be everybody's cup of tea, but hey, some people's souls just can't be saved. But for those of you willing to be a little bit brave, this work will reward. And there is enough subversion of LGBTIQA+ history and identity to make Unveiling deeply poignant. Just… be prepared. It's full on. If you must, wear a pearl necklace for clutching.
Unveiling: Gay Sex for Endtimes is at the Blue Room Theatre until August 25th. Head to blueroom.org.au for tickets.
Scott-Patrick Mitchell
Image:- Rachael Barrett