Review: WASO shine under the mirror ball with 'Disco Wonderland'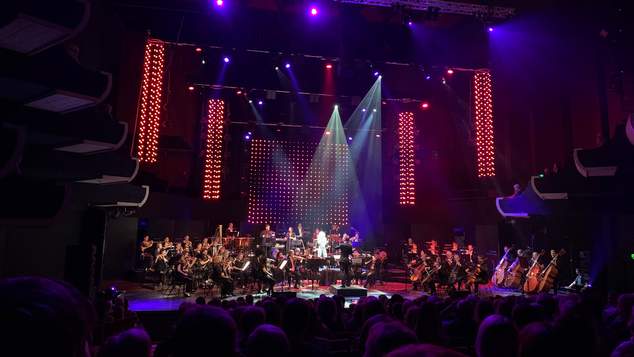 Disco Wonderland: A Night at Studio 54 | Perth Concert Hall | Until 9 Nov | ★ ★ ★ ★
It's a tried and tested way to build new audiences, program something familiar to get them in the doors and in now time they'll progress from disco to Dvorak.
The West Australian Symphony Orchestra put on a sensational night which featured four unique singers, who you wouldn't expect to see on stage together, delivering flawless disco gems with the backing of a full symphony orchestra.
Musical theatre star Kirby Burgess, who starred in the musical Dirty Dancing and owned the role of Rizzo when she toured here with Grease, got the party off to a sensational start belting out Gloria Gaynor's I Will Survive. 
She was followed by falsetto singing Nathaniel Willemse who dived into Earth Wind and Fire's Fantasy, and opera singer Ben Mingay who brought offerings of the Doobie Brothers. The legendary Kate Ceberano completed the team, showing that she can sing disco as easily as she can nail jazz, musical theatre or the pop charts.
The fast paced show saw each singer taking to the stage to deliver a disco classic, but there were some surprising and welcomed choices among the tunes. Mingay sang The Doobie Brothers What a Fool Believes before bringing a romantic moment with Gordon Lightfoot's If You Could Read My Mind. While Mingay performed the song in its original form, as a slow country ballad, Kate Ceberano joined him to change the gears and sing the song as a disco tune, just as Viola Willis did in 1980.
Over the next two hours we heard the hits of K.C and the Sunshine Band, Rose Royce, Michael Jackson, The Bee Gees, Barry White, Chic, Cher, Donna Summer and many others.
Highlights include Kirby Burgess and Kate Ceberano's 'on fire' delivery of No More Tears (Enough is Enough), Nathaniel's medley of Michael Jackson hits, and Ben Mingay's powerhouse vocals on Harold Melvin and the Blue Notes' Don't Leave Me This Way. 
The show was maximum fun and packed with sing-along hits from start to finish. We're honestly hoping Ben Mingay puts out a disco album soon.        
Your last chance to catch Disco Wonderland is Saturday 9th November, tickets available from West Australian Symphony Orchestra.