Review | Yeti's Demon Dive Bar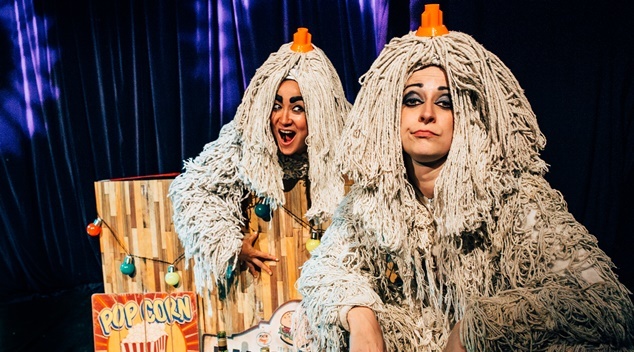 Yeti's Demon Dive Bar | Circus Theatre | Until Sun Feb 12 | ★ ★ ★ ★ ½
The beautiful thing about Fringe World is the general insanity of it all. If you surrender to its might, Fringe becomes a mash-up of venue hopping, late nights and marvellously mad shows. And there is an abundance of all of that on offer this year. Heaps and heaps, literally. But the shows don't get any more marvellous, or mad, than Yeti's Demon Dive Bar.
Presented by Dead Man, Yeti's Demon Dive Bar is a late night variety show in the style of The Mighty Boosh. As such, lo-fi aesthetics and humour collide in a surreal show that marries comedy, slapstick, music and cabaret. The energy is high, the jokes dirty and the characters absolutely freaking adorable. And the whole thing is held together by the sticky tape of sincerity, the seams all showing, which only adds to the genuine hilarity.
Host of the night, Yeti, is essentially a giant mop monster costume housing the ever expressive Bernadette Byrne. Yeti is joined by a swag of characters including perennial sidekick (and vocal powerhouse) Furious Fang plus the likes of Frankie Doom, Steve The Lobster Boy, The Psychedelic Nuns, Jonny The Head, an imaginary Baby Yeti, two sassy waitresses and you. Yes, you!
If the notion of audience interaction makes you shudder on a cellular level, well, suck it up princess…because this show has plenty. And my word Byrne and Fang have a way of making the audience get into show and be a part of the mayhem. This is the inherent magic of this production: amicable characters draw you in and before you know it, you're being bawdier than them. So much so that some audience members succumbed to becoming human ping pong cannons, solo Team Steve cheerleaders, inductees for The Telepathic Hat and Yeti's own personal couch cushion (mind you…he was a damn fine couch cushion). It takes a certain level of mastery to get an audience on your side, but Byrne and Fang do it with such aplomb and aching sincerity that the results are electrifying. And terrifying…but in a really beautiful way.
Yeti's Demon Dive Bar is an intelligent and raucously funny adventure. It has a loveable slapdash feel and some really clever moments that are well crafted yet appear completely arts and crafts. It's this juxtaposition that gives this show its charm, all held together by the actors ability to suspend disbelief in favour of anarchic stupidity. And they suspend it so high that it leaves you feeling high yourself afterward…largely because you've been deprived of oxygen from laughing so long.
This show has a very short run, which is unfortunate since it really is a shiny little gem. Completely nutso, outrageous and sure to offend with sacrilegious themes and 1980's celebrity sex dreams, but shiny none the less. A must see. And if you do go, tell Yeti I said hi!
Scott-Patrick Mitchell
Yeti's Demon Dive Bar will be at the Circus Theatre until Sunday February 12th. Tickets and more information available from fringeworld.com.au
Image:- Jacinta Oaten