Review | 'You Got Moxie, Kid' celebrates self-discovery and Jeff Goldblum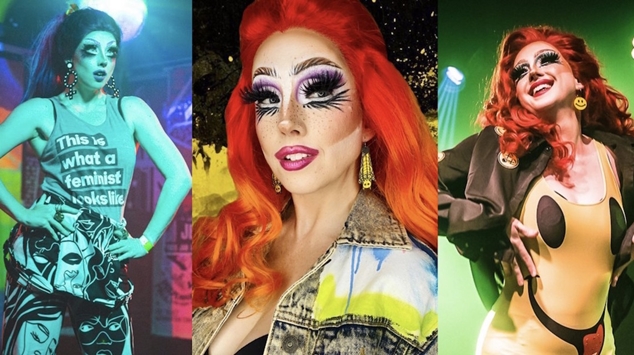 You Got Moxie, Kid | Connections | til Jan 28 | ★ ★ ★ ★ ½ 
Originally scheduled to premiere in 2022, this debut show by lash lioness Moxie Heart was postponed (because, well C-19). Literal years in the making, this show breaks down the wall between Moxie and her audience; sharing her story of self-discovery, transition, heartbreak, recovery and acceptance through the art of drag. As an AFAB (assigned female at birth) drag queen, Moxie tells her story with the support of friends Ellie and Queer Quartz in supporting roles, as well as another AFAB queen (Kimmy Head) behind the scenes. Having a strong supporting cast is vital for a one-woman show, and Moxie has that in spades.
Starting with high energy, Moxie begins with a tribute to her pet cockatiel, and for anyone who follows her on IG (@moxieheart_ for those that don't!) you'll know that Bimini means the world to her. It was cute, but what it was even more was camp, a brilliant setup to the rollercoaster of emotions that was the rest of the show. After such an energetic number, Moxie began sharing her story nervously, but this can be overlooked for many reasons – she just performed her butt off to open the show, sang live, and the buildup to this show has been literal years. Moxie won us over quickly though with a few laughs and a lot of sentiment, painting a picture of her life before Moxie, as Helen the horse girl, and the dreams and inspirations that started her journey.
Moxie uses clever musical and performance choices to keep us entertained; from her first Drag Factory performance piece (shoutout to Queer Quartz in a fabulous "Ballet Girl" role, for her theatrical flair that nearly stole the show during the number), to cleverly adapted hits with changed lyrics to aid her storytelling, to soulful and tear-jerking moments that speak of breakdown, heartbreak, and rebuilding. She utilizes not only live vocals, but 'traditional' drag lip-sync, as well as handing the spotlight to Ellie momentarily to take a leading role during her 'New York' segue. Ellie's vocals are equally impressive, and complimentary to the strong tones that Moxie delivers, proving that she has done well casting her supporting roles.
As the title suggests, a celebrity cameo is expected… and when Jeff Goldblum and his role in Moxie's discovery is revealed, there are laughs, nods, and snaps of agreement from the crowd. The clever use of Moxie's own photo of Jeff from her time overseas was notable and bought a genuine touch to the set. Jeff played a pivotal role in the story right until the end, with Moxie referring to his influence on her more than once and asking 'What Would Jeff Do'?
Continuing through the show Moxie bared her soul to us, not only through performance but through anecdotal stories, clever use of scene-setting props, and with the reality of her transformation. She addressed FAQs about her drag, the inspiration behind her name, and what The Lion King has to do with her makeup. Baring one's soul in this way can only be described as courageous, gutsy, and creative – exactly what her name indicates that she is. Moxie showed us the reality of drag; changing wigs, costumes and props onstage, rather than behind the scenes, removing the cloud of mystery and truly exposing herself to the audience.
The standout moment of the night was Moxie opening her heart for us. Sharing her own story of heartbreak and self-doubt, and with the stage stripped bare, Moxie had the audience spellbound as she sung a moving cover of Cher's "Believe", spilling emotion into every word and drawing tears from the crowd. The raw emotion was truly heartfelt, and it was easy to fall a little more in love with Moxie after this performance.
Wrapping the show with another high energy number, a final appearance from Goldblum, and her capable supporting cast, the crowd went wild – a standing ovation on opening night after a delayed debut was well deserved. Was it perfect? No. Does it matter? No. You've Got Moxie, Kid is the perfect feel-good Fringe show if you're wanting something real, intimate, entertaining and inspiring. Be You. Abolish Fear. Relax. And if you're wondering whether to go and see it or not, simply ask: WWJD?
You Got Moxie, Kid is running til Jan 28. For tickets and more info, head to fringeworld.com.au
Kiera (they/them) is a passionate arts creator and consumer, especially in the fields of cabaret and burlesque. Combining 20+ years of arts experience with numerous research and education-based qualifications, they enjoy sharing their knowledge and experiences.
---

You can support our work by subscribing to our Patreon
or contributing to our GoFundMe campaign.