Rihanna is the Real Deal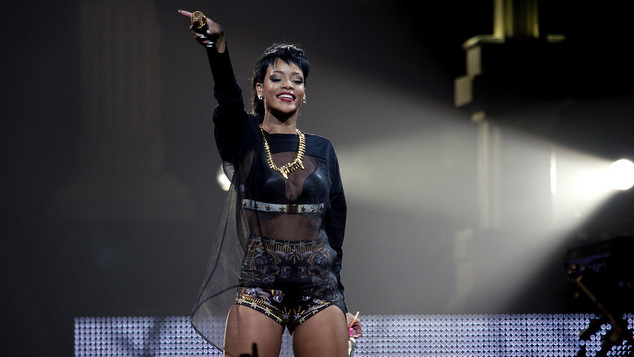 Rihanna kicked off the Australian leg of her 'Diamonds World Tour' last night in Perth with a show that was free of the trappings of most international tours but showcased the singers genuine talent and personality.
The show had a distinctly lack luster start but kicked into high gear in the second half when the singer started lining up her massive collection of hits.
At the beginning of the show Rihanna appeared kneeling on the stage singing 'Mother Mary'. The fans in the standing area swarmed forward their iPhones held high. It had been a long wait for the show to begin, it was past 9:40pm when Rihanna finally appeared, late for a 'school night'.
After removing her 'Mother Mary' robes, Rihanna was dressed in black and gold shorts, a black sheer top and gold necklace, it would be the first of many costume changes she made through the show. The first part of the show focused on the singers hip-hop styled songs. Largely free of hits you could help wonder if this concert would be added to your list of most disappointing performances. After a costume change Rihanna appeared in a T-shirt and full leg covering high white boots and launched into a collection of reggae tunes that started to get some of the crowd moving.

Changing into a neon coloured cycling outfit the musical style changed again, finally some hits started to come out including the massive 'Umbrella'.
Considering Rihanna's track record of seven albums in seven years, alongside her many collaborations with other artists, it was strange that all the hits were being held back for the second half the show. You couldn't help but begin to compare the show to other artists epic stage productions.
Gaga has giant three level castle and a trike, Kylie had mind blowing costumes and a fountain, even Nicki Minaj had more impressive video screens. By comparison Rihanna had backing dancers that were not so impressive, nothing particularly mind blowing was appearing on her video screens and the costumes could have just been thrown together.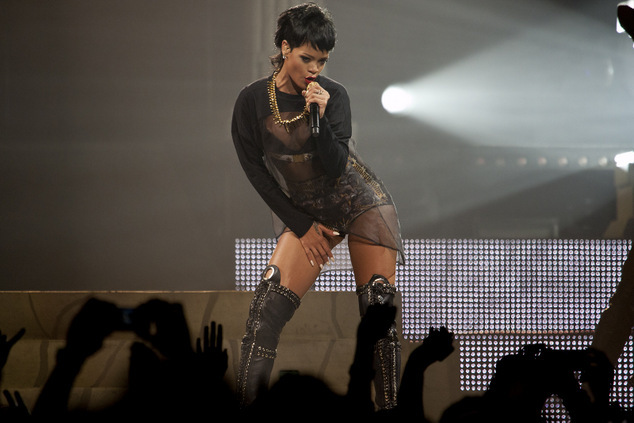 In the fourth set everything changed. Rihanna returned in a very sexy red outfit and moved into a section of more sedate songs starting with 'Loveeeeeee Song', and 'Love the Way you Lie' and a short version of 'Take a Bow'. Suddenly you were struck by the power of Rihanna's voice, and her unique personality. Watching her face on the video screen was captivating.
The hits came thick and fast with another new outfit and even people sitting in the stands were standing up and dancing as we worked our way through 'We Found Love', 'S&M' and 'The Only Girl in the World' and 'Don't Stop the Music' building up to a crescendo of 'Where Have You Been' – where Rihanna really showed off her dance moves.
For an encore we were treated to a powerful rendition of 'Stay' and the mega hit 'Diamonds'. The first half of the show may have been drab, but the conclusion was a powerhouse performance. When you have a voice like that who needs a three story castle or water fountain?
At just 25 years of age Rihanna is an impressive performer. In an hour and a half she had gone from trashy to classy, there were times when she was sassy and other moments where she was funny. What will it be like to see Rihanna in 10 years time? I can't wait to see…
The Diamonds World Tour is heading around Australia, hitting Adelaide (Sept 26), Brisbane (Sept 28), Melbourne (Sept 30, Oct 1)and Sydney (Oct 3 & 4).  
Graeme Watson, Photos: Dan Bedford