'Rocko's Modern Life' movie will have transgender storyline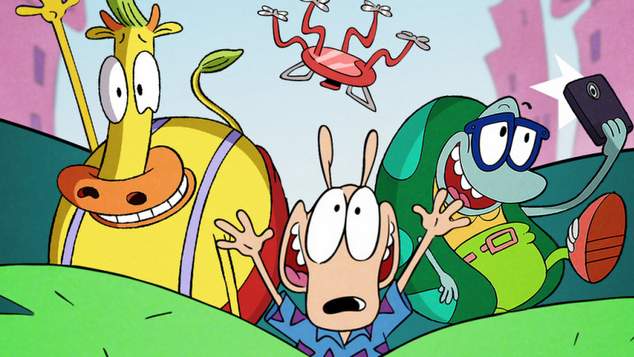 Much loved 90's cartoon Rocko's Modern Life is returning for a new Netflix film and the creator has just revealed it will have a prominent transgender storyline.
When we last left Rocko and his gang they were lying through deep space in their house, now they're coming back into orbit and making a return to the earth.
Rocko's Modern Life: Static Cling is out on August 9th, and see Rocko, Heffer, Filburt and Spunky coming down to earth and having to grapple with the many changes that have happened to society in the last 20 years.\
In a new interview with Entertainment Weekly creator Joe Murray recalls that back in the original series they made an episode where Mr Bighead who had to hide his identity from a town that hates clown. Murray says the episode was an analogy for what it's like to have to come out when you're gay – but the network wouldn't allow a straight forward story.
Fast forward 23 years and the show will be tackling sexuality and gender issues head on in its new film outing. Once the crew return to earth they'll be tackling the introduction of mobile phones and food tracks, and Rocko will get frustrated as his favourite cartoon The Fatheads is no longer being made.
The Fatheads was made by Mr and Mrs Fatheads son Ralph, but he left the neighbourhood years ago on a voyage of self discovery. The gang set off to find Ralph* and instead they discover Rachel.
Take a look at the trailer and log on to Netflix to catch up with the crew. 
*Was there a  long debate about the ethics of dead-naming a fictional cartoon character – you betcha.  
---