Rocky Horror Show Meets the Antici….pation!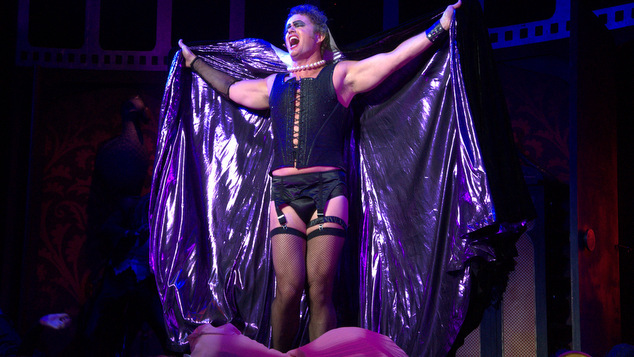 It has to be one of the best entrances that any actor can get to portray on stage. The moment when Frank N Furter takes to the stage in 'The Rocky Horror Show' to declare himself the Sweet Transvestite from Transylvania. It comes on the high of the iconic 'The Time Warp' and Craig McLachlan nailed it.
From the moment McLachlan appears in his corset and fishnet stockings any memories of other actors playing this role evaporate, McLachlan goes full throttle camp and owns the part.
Forty years after it first appeared on the London Stage the Rocky Horror Show is a mountain of fun. It's language may not be completely politically correct in 2014, but surely we can forgive a pop culture phenomenon that most likely broke down many barriers for trans* people in it's time.
One of the challenges of Rocky Horror is it's two big musical numbers are in the first half, while it's most engaging scene opens the second half. This production cleverly tags a second take on both big musical numbers at the end to give the show a big finale.
The opening night crowd were animated, many people were in costume and many took dancing, after all it's just a jump to the left, and a step to the right. The cast were rewarded with a long standing ovation at the end of the show.
This production is tightly choreographed, and each performers gives a unique interpretation of their character. Christie Whelan Browne is an admirable Janet, while Tim Maddren's take on Brad allows what is traditionally a fairly flat character to become quite engaging. The bedroom scene between Brad and Frank n Furter is flawless.
Kritian Lavercombe is a faultless Riff Raff while Erica Heynatz creates a Latin American take on Magenta. Perth's own Nick Christo plays Eddie and looks like he's having way too much fun. The real star here though is McLachlan who is clearly loving every minute of his second time in the tights.
The Rocky Horror Show is playing a strictly limited season at Crown Theatre until Sunday 9th March. Read our interview with Craig McLachlan.
Review: Graeme Watson Image: Sophie Joske