Rose McGowan and Rain Dove reenact 'Baby It's Cold Outside'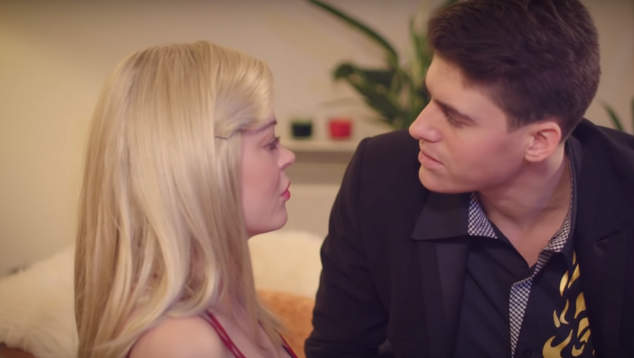 Actress Rose McGowan and her partner, non-binary model Rain Dove, have created the Christmas song Baby It's Cold Outside highlighting how creepy the song's lyrics are in the age of #metoo.
The song was written in 1944 and featured in the 1949 film Neptune's Daughter – where it won the Academy Award for best song. Over the years it's been recorded countless times by everyone from Bette Midler to Lady Gaga. In the late '90s Tom Jones and Catatonia singer Cerys Matthews delivered a very memorable version, while o nthe TV show Glee a same-sex version of the duet was performed.
Recently though people have been calling for the song to be banned saying it's lyrics sound predatory and promote rape culture. To highlight the songs lyrics Rose McGowan and Rain Dove have delivered their video highlighting the creepiness of the song's message in a modern context.
The song featured banter between a man and a woman, as she suggests it's time for her to leave, he continually gives reasons why should stay longer, primarily that is 'cold outside'. At one point he makes her a drink, and after taking a slip she asks "Hey what's in this drink?".
Recently several radio station's around the world have banned the song, but historians have highlighted that when it was written the idea of date rape, spiking drinks and pressuring women was far from the authors mind.
As one writer at The Daily Caller points out in the 1940's it would have been deemed socially improper for a single woman to be alone with a man, and it could be interpreted that it's the woman is complicit in making up reasons to stay a little longer.
British actress Joan Collins recently lamented that the controversy around the song was a sign that consent culture was getting out of control. The 85 year old said soon seduction would be socially unacceptable.
"Is someone going to have to ask permission of the parents before they can kiss a girl? It's absolutely becoming out of control. It seems to have happened in the last two years. It seems to get worse and worse." Collins said during an appearance on Good Morning Britain.
Susan Loesser, the daughter of Frank Loesser who composed the song said her late father would be furious that tuner was being banned, and asked that people listen to the song in the context of the time it was written.
"I think my father would be furious at that," Loesser said. "People used to say 'what's in this drink' as a joke. You know, 'this drink is going straight to my head so what's in this drink?' Back then it didn't mean you drugged me." Loesser told NBC News.
Loesser said she understood that in 2018 some women may raise their eyebrows at the lyrics, but the song was originally written as a performance piece her parents sang together at parties.
While some radio stations are banning the song, deeming it inappropriate, one radio station in Kansas showed their love for the song playing five different version on rotation for two hours.
One different take on the song was delivered by Lady Gaga and actor Joseph Gordon-Levitt when they appeared with The Muppets, they switched roles with Gaga urging the man to stay a little longer.
Read More: The annual debate over 'The Fairytale of New York'.
Rose McGowan was interviewed by OUTinPerth back in 2014 – read our chat with the Charmed actor.
OIP Staff
---