RTRFM announce some of the bands appearing at 'In the Pines' 2019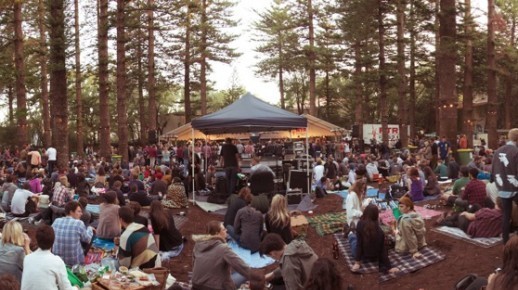 RTRFM 92.1's In The Pines returns for its 26th year on Sunday, April 14, 2019.
RTRFM's local music fest takes place once again in the majestic surrounds of UWA's Somerville Auditorium, featuring 20 of Perth's best across two stages.
The annual fundraiser is recognised as one of the best local music events of the year, and aside from delivering essential funds to the community radio station, it often sees much loved bands reforming for the event.
The first round of acts was officially announced this morning during Breakfast with Taylah and 90's music fans with be ecstatic with the news that Flanders will be performing.
A staple of the late 90's, Flanders do everything you want from a grunge rock band. Their singles Anky Fremp and Teenage Greg will take you back to the 90's and a time when that is all you heard on RTRFM.
Downsyde, WA's greatest ever hip-hop band return to the Pines stage after well over 15 years. In between dropping their 2017 release ClassicILL and playing some huge stages, Downsyde have established themselves as the pioneers of Australian hip hop.
True travelling troubadours, The Little Lord Street Band will play their first ever In The Pines in 2019. Having played throughout Australia constantly over the last 5 years, James Rogers and Natasha Shanks along with their band are some of the hardest working musicians in Australia and their unique brand of alt country will sound wonderful among the Pine trees.
One of Australia's finest jazz musicians, Gemma Farrell will bring her Gemma Farrell Quintet to the Pines stage to class things up just a little. Gemma is one of our finest saxophonists, backed by a full band this will be a wonderful way to spend the afternoon with a glass of wine and a picnic.
From legends to soon to be legend Noah Dillon plays his first Pines after a huge year. Releasing some serious lyric driven singles in 2018, including Maggots and You Did it To Yourself, Noah brings his unique folk rock to the stage.
Post punk, noise makers Didion's Bible don't play live all that often but when they do they blow the roof off whatever stage they are on. They will be there to play the roof straight off the Pine. Their raucous, unique and fascinating sounds will certainly load up the decibels.
Perth punks Cold Meat will continue the noise with their raw and snarky sound. Lead by the fierce vocals of Ashley Ack, Cold Meat's quick fire-in-your-face tunes assert that punk is well and truly not dead.
With 10 hours of local music against a stunning background, In The Pines is a perfect place to picnic with friends and sample 20 local bands. The event is always sold-out so get in quickly to get tickets. 
Tickets to In the Pines on Sunday 14th April can be purchased from rtrfm.com.au.
OIP Staff, members of the OIP team volunteer at RTRFM 92.1 
---