Ruby Boots Album Has Been a Long Time Coming but it's Worth the Wait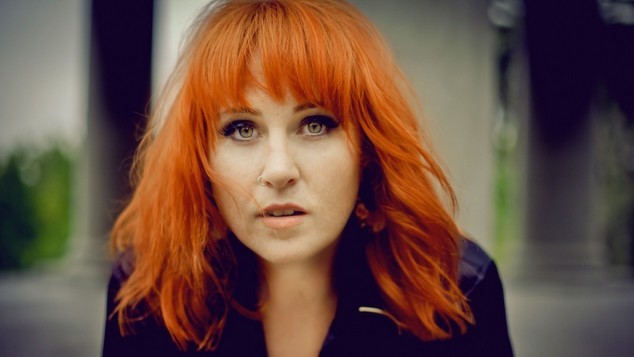 Bex Chilcott who preforms as Ruby Boots is experiencing lots of firsts this month.
Her debut album has been released to widespread acclaim, but she also is celebrating the first time a drag queen has performed one of her songs.
"A friend of mine does drag in Melbourne and she's a big fan. She did one of my old bluegrass songs and filmed the whole thing and sent it to me." Chilcott laughed as we caught up in the beer garden of the Rosemount Hotel.
She also shares that her friend has one of the coolest drag names that we've heard in a while 'Karen from Finance'.
"That's the first time a drag queen has performed my music," Chilcott said, "Now my life is fucking complete!"
The musician said it felt incredible to complete her first album and incredible that it was coming out. Last year the singer payed over a hundred shows around Australia and that hard work has seen her get the attention of audiences, radio stations and record labels.
"It feels incredible, and incredible that's it's finally coming out. It was completed last year, it was finished in January 2014."
Chilcott  explained that the albums release took a little longer than anticipated after she was signed to a label. She is excited though that her album is coming out on Lost Highway records, the same label that is home to Ryan Adams, Lucinda Williams, Willie Nelson and a host of respected artists.
"It's my dream label," Chilcott said, "once we signed we had to find the right timing to put out the record. It's definitely dragged out. It's so fucking nerve racking, but I'm excited to have it out. Artistically you need the audience's feedback as food. Whether it's positive or negative you need to hear what people think.
"You write because you have to write, and you create because you have to create, but it's great to gauge how other people feel about it. it's part of the process, having people hear it. Then you can move on, regardless of the outcome."
"Having people hear the record is like the final piece of the puzzle, and I've had this puzzle in front of me for a while, with this once piece missing. I'm really excited for people to hear it."
The album opens up with 'Cola and Wine' an upbeat track that instantly creates a world willed with characters and a call to stop second guessing decisions. 'Middle of Nowehere" is a slower song with searing guitars that sound like the soundtrack to a sunset. Across the ten tracks there's a variety of styles of music and an upbeat duet with fellow Australian musician Jordie Lane.
The albums is laid back and Chilcott's vocals are crisp and clear allowing you to appreciate every lyric. It's style of music that is timeless.
On the closing track "Long Time Coming' Chilcott sings about a relationship breakdown. It's a song filled with warm organs, steady drums and a forlorn, but powerful vocal.
Chilcott disagrees with my description of it as being "quite a country album".
"It depends who's listening to it… if I want to make a country album I will, but this isn't a country album. I know what a country an album sounds like."
"It's not a country album because it's a lot more diverse than a country album. I think 'Walk Away' is a country track, I don't think 'Baby Pull Over' is a country track and 'Cola and Wine' isn't a country track. If it was a country album, they'd all sound like 'Walk Away'.
Chilcott said that she felt the album fell much better into the category of Amerciana, but she appreciates other people's viewpoints. "You can call it a country album if you like," she laughed, "I'm not offended by that."
Last year Ruby Boots track 'Oh Lover' became a high rotation hit on local community radio. I asked Chilcott if she had any insight into what make a song become an audience favourite.
"You can't make people like a song," she said, "You might like it and the next person will hate it. I think if there's enough people who like it then great."
When it comes to writing Chilcott said she tries to write a lot revealing that when it came time to record the album she had over thirty songs to choose from. Writing songs however requires a certain mental space, something that doesn't come easily when you're a self managed musician organising gigs and handling the business side of affairs.
"I realise that there'a push and pull, I took off to America in January and took two weeks off to sit in my favourite dive bars and drink my favourite shooters… I went to Nashville, it really resonates with me. I spent a couple of days out in the desert at Joshua Tree, my first time in the desert. Immediately you can feel the space in side of your soul, which allows things to surface and allows you to create." Chilcott said.
Once the albums out the singer is looking forward to getting back on the road and touring with the record and hopefully hitting a few festivals over the summer.
"It never stops," Chilcott exclaimed, "There's no stopping!"
Ruby Boots album 'Solitude' is available now. Ruby Boots plays the Rosemount Hotel on May 15, Maker and Co in Bunbury on May 16 and Clancy's Fish Pub in Dunsborough on May 17. 
Check out the video for Middle of Nowhere' below. 
Graeme Watson