Ruby Rose to Join 'Orange is the New Black'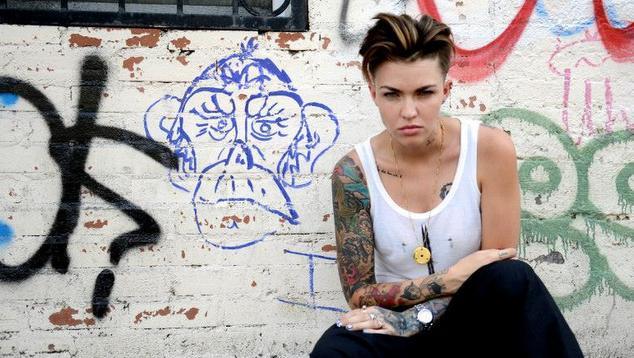 It appears the queer lady powers that be have shined upon us mere mortals with a casting decision few had dared to imagine.
It has been confirmed that Ruby Rose will be joining the cast of 'Orange is the New Black'.
The bisexual DJ, model and television presenter appeared in a spread in Elle magazine alongside this salacious sentence:
"Ruby Rose, 28, oozes raw sex appeal even in an orange jumpsuit as the newest inmate -and lust object of both Piper and Alex at Litchfield Penitentiary on this summer's third season of 'Orange is the New Black'.
A spokesperson for Netflix confirmed to Fairfax Media that Rose would be joining the cast, as well as sharing that her character's name would be Stella Carlin (Spoilers!).
'Orange is the New Black', which tells the story of middle class American Piper Chapman going to prison for a crime committed a decade earlier, has enjoyed critical acclaim and praise for its representation of queer women and women of colour amongst its strong ensemble cast. Alongside Taylor Schilling as Piper and Laura Prepon as love interest Alex, the show also stars Laverne Cox, who became the first transgender actress to be nominated for an Emmy.
With Piper and Alex reunited in prison at the end of season 2, what could the introduction of androgynous beauty Stella Carlin mean for the third season of 'Orange is the New Black'? Here are some possible storylines that this journalist hopes for but have no basis in reality:
Stella and Alex join forces to create a prison tattoo parlour. Their skills are put to the test when Crazy Eyes asks for a lengthy Shakespeare passage on her ribs.
In a bid to solve Litchfield's financial problems, the inmates resolve to create a nude fundraising calendar. Stella and Poussey compete to decide who should be January.
In an attempt to reduce her sentence, Stella agrees to help the guards appear more sympathetic by assisting them in setting up a barbershop quartet.
In a special crossover episode, is it discovered that Frankie from Wentworth committed a number of crimes in the US and is forced to transfer to Litchfield. The tension between Frankie, Stella, Alex and Piper causes a Sapphic love quadrangle, the magnitude of which has the power to either create widespread harmony or plunge the world into chaos.
Sophie Joske