Ruth Wykes Farewells WOW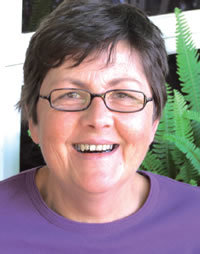 On Friday January 25, 2008, after eight and a half years of publishing, WA's own monthly lesbian magazine Women Out West (WOW) has closed. Former managing editor, Ruth Wykes, released the first issue of WOW in May 1999, at a time where there was limited lesbian specific media content available in the state.
While recent years have seen an explosion of queer media in WA, including two national lesbian publications now distributing in the state, the loss of a much valued local print publication can only diminish us as a community. WOW's fearless approach to all sorts of community issues; from seeking accountability from Pride, to Law Reform, to domestic violence will be much missed.
Ms Wykes took a moment between farewelling print deadlines and embarking on a new round of projects to talk to OUTinPerth's Scott Patrick Mitchell.
Why did you initially start up Women Out West?
It was way back in 1999 and I just felt that lesbians prior to law reform and I just thought that lesbians deserved to have their own voice and I just felt there was room for a lesbian magazine here in Perth.
I think it's given lesbians a voice and a place within the larger community. Certainly I have heard from rural lesbians or coming out lesbians who have picked up WOW and no longer felt isolated. I think it's provided a forum for debate, a place where we can laugh at ourselves, and a place where we can find out information. And I think it has created an oral history of a time and a place in culture, and particularly for a marginalised community.
What are some of the more touching moments the magazine has brought your way?
One of the more memorable was meeting Kelly and Sam Pilgrim-Byrne. They were going through an immense struggle to have a baby. And they went through a lot of heartache and a lot of disappointment. Yet through it all they not only stayed together but they also volunteered their time with GALE and fought not just for their own rights but for the rights of everybody. I don't think I can even put into words how I felt a few months ago when I saw them with their baby for the first time and for me it was a real life symbol of the fight our generation has gone through, plus the one before us, and just how they brought freedom to our community in a very real way.
You mention in your October 2007 editorial that while you 'can Imagine One Better World' you're 'just not sure I'll ever…contribute enough to pass on to the people of the future'. With the close of your landmark publication, which you single-handedly championed for eight and a half years, do you still feel like this?
I think you could live a hundred years and feel like you haven't done enough. But I think that I've done some good. I'm the kind of person who likes to participate in communities. It might be ego but I like to think that I can leave something in a better shape than when I got there. And I don't think I'm alone in that. I think it's one of the things that drive activists everywhere. And I guess from an ego point of view I'd love to think that things were in better shape for me having been there but I don't believe that's a call I can make. I think that's for other people to decide.
What brought about the decision to close Women Out West after so long?
One of the main ones is that I believe that younger people access information through the internet now. I've seen research which suggests that all print media around the western world is falling because people are looking toward the internet because people get their information more quickly and they don't have to pay for it. So I thought about whether or not I have the resources to do something more web based and I don't. I think another reason is that I'm starting to lose my own passion for it. Also, there's the financial side of it: advertisers are reluctant to advertise in small print, so making an income every month has become harder and harder.
And finally, what's next for Ruth Wykes? Have you planned anything?
Absolutely not. I'm wide open to offers and adventure. But at the moment I feel quite passionate about helping Pride. I'm a life member and I really, really want it to keep going. Also, and I don't want this to sound wanky, but I have the space now to write in my own voice, so I really wouldn't mind writing a book…
—
All of the staff here at OUTinPerth would like to acknowledge Ruth Wykes for the positive contribution she has made to the lesbian and gay community here in WA with WOW, and we wish her all the best for the future.

---

Love OUTinPerth Campaign
Help support the publication of OUTinPerth by contributing to our
GoFundMe campaign.