Ryan Mathew Schulz: Launching a new writing career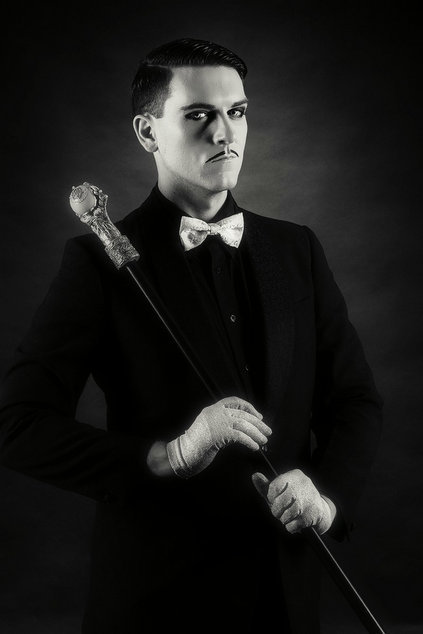 Ryan Mathew Schulz is about to release his first book.
The performer, who has spent almost a decade entertaining local audiences with his drag persona Fab Panache, has retired from the world of drag.
Instead he's channeled his creative energy into spending late nights hitting the type writer keys to knock out his first novel.
Shulz tell us about the experience of writing his first book and what the future holds for his performance career.
What does it take to write a book?
A lot of late nights and early mornings! Many months of mine were spent up until 2am with my eyes glued to the screen and fingers tapping at the keyboard.
I must say, as life never seems to stop, it took a lot of dedication and fore-going of relaxation, while still getting up early for work each day and fitting in the daily routine of life. This is not to say that I didn't enjoy the experience, as each hour until that hand hit 2am (or thereabouts), my fingers literally did not stop tapping.
In a way, it was quite the escape from reality and rather exciting for me at times, as if on a real life adventure. I related to this particular book in many ways, so there were some moments it was like taking a trip down memory lane – however I must make it known that the book is completely fiction.
I suppose in any field there are moments we draw from our lives which inspire us to create, and that's exactly what I did. I created a story drawn in-part from real life experiences, and adapted a much more exciting and thrilling story for readers! Some might say daunting!
Did you write anything prior to tackling a novel?
I have indeed written in the past, but obviously nothing to the extent of 'Glitter, Blood & Tears'. I had a short story published while I was in High School, and I have many fond memories cooped up in my bedroom writing away.
I remember evacuating cities, manipulating the weather, creating communities and even conjuring up characters with magical powers.
If I think even further back, I remember one of my teachers in primary school raising concern about a series of axe-murderer picture books that I had been drawing and writing – yes, there's some insight in terms of theme for you.
In fact, a very vivid memory of mine was on a walk with my dad one day and he asked (or more so reassured himself) "you're not going to grow up and kill me and mum in our sleep one day are you Ryan?"
What was the inspiration for 'Glitter, Blood and Tears'?
Leading on from my childhood memory of my poor dad's fear, I have always been a keen fan of horror and suspense – both films and books.
My all time inspiration is the KING of horror himself Stephen King, and I have followed his work closely since the mid year's of Primary School, secretly watching 'The Shining' when I was about grade 4 while my parents weren't home one night. I loved every thrilling minute of it.
Although my sick twisted mind as a child most likely loved the gore and un-explored side of life, as I've grown I've found myself not necessarily interested in the gore, but more so the darker side of a story… not the Hollywood happy endings.
A big inspiration for the book was from my time as drag queen persona 'Panache', or as some knew her 'Fab'. Eight years in those heels were bound to tell a story, and only now do I fully understand the saying 'write what you know'.
There were moments writing Glitter, Blood & Tears that the words just poured out of me. As much as the story is adapted and fiction, there are some very real moments of emotion and experiences in the book which are close to the truth.
The story itself is a confronting tale of drag queens, homosexuality and murder. It's the story of a young gifted man with a knack for performance. A gifted man, whom after a childhood of humiliation and torment finds himself the star of a nightclub – as a drag queen.
It's horrific, sensual and heart wrenching, and I'm sure readers will sympathise and at the same time be appalled with its characters. The book will take it's readers on a journey of sex, despair, justice, revenge, equality and equity, and combines human nature, emotion, imagination and reality into what I feel is one powerful piece.
You've retired your drag persona Fab Panache, what prompted you to have this career change?
I've got to say being a queen is effort. As a dear sister of mine once said "I can understand why some woman give up on the whole beauty thing".
All jokes aside though, I must say I had it pretty good. I was resident hostess and showgirl for the 'Twisted Vaudeville Circus', I was offered Pride WA's MC spot for their Fairday events, and I had many guest appearances with a nice line of other pursuits under my belt from television presenting roles, titled the first ever Miss WA for a National Drag Competition, and both part of award winning and nominated productions.
But in the end, my heart didn't beat to the rhythm of high heel shoes and lip-syncing glitter lips. I've had quite a few people express their shock and sadness, as if she was a real person that died!
However, the time for me came to venture outside of the box and dabble in other creative initiatives. Much like I'm sure some Accountants get over numbers, I got over frocks and sequins.
As well as taking to writing, I developed two new MC characters which have really taken off, and I have found myself enjoying them a billion times more! I am doing a lot of work with the pin-up and vintage community now as 'Mr Dappery', a gent who captures his audiences with British charm.
But the character I have really clung onto is Mr 'Vicious Von Vixen (pictured). He is a dark and mysterious vaudevillian who can only be described as a creature not of this word, but if it had to be put in words, picture a Gothic Gomez Adams.
Vicious is just about to launch his own 'Late Night Cabaret' at the Ellington Jazz Club for a monthly showcase, and I can assure as much – if not more – entertainment than that of Panache. Complete with a more sinister and alluring addictive personality.
Any ideas what your next book will be about?
Funny you should ask, I have already written the first chapter. Although, since the Fringe World Festival hit town I have been a little pre-occupied and should probably get back onto it to strike while the irons hot!
'Glitter, Blood & Tears' tells the story of a boy who has a horrific preconceived idea after a series of events, but my second book will touch on conforming to societies ideals, and how just too much conforming just may make someone snap – the 'snap' being the big story!
'Glitter, Blood & Tears' launches Wednesday 24 February and it is available for purchase through Booktopia, Bookdepository and Amazon.com.
An e-book version is soon to be released also. People can keep posted on its movements via the 'Glitter, Blood & Tears' Facebook Page.