The Seagull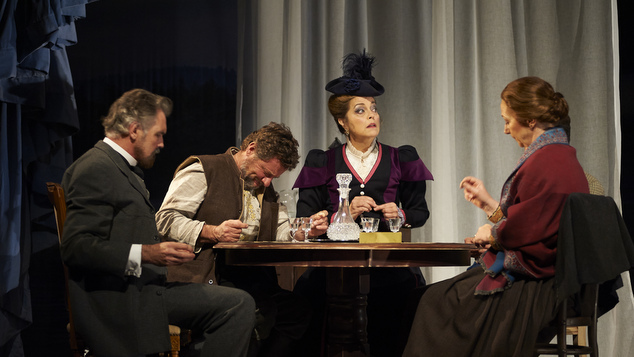 Black Swan Theatre State Theatre Company created a buzz of excitement when it was announced that Greta Scacchi would be returning to the Western Australian stage for the first time since the early 1990s.
Scacchi, who has enjoyed a successful film career, created quite a buzz when she appeared in Ibsen's 'The Doll's House' for the Festival of Perth back in 1991, and here's she's teamed up with some other wonderful actors for a classic piece of modern theatre, Chekhov's 'The Seagull'.
While there was potential for this to be one of the theatrical highlights of the year, it's a production that doesn't always hit the target. Some scenes are perfect, filled with engaging performances, quick witted comedy and captivating characters, but a scene change suddenly throws us into a passages of dull meandering blather.
In this Russian tale, Scacchi plays actress Irina Arkadina who has left the city to visit her brother Sorin (Michael Loney), a retired public servant with failing health on his country estate. Irina is accompanied by her lover the novelist Boris Tregorin, played by Ben Mortley. Also living on the estate is Irina's son Konstantin (Luke McMahon), who is also an aspiring writer.
The estate is filled an assortment of guests who gather to see a play written by Konstantin. Nina (Leila George) plays Nina, a young girl from the next estate who dreams of becoming an actress. Irina makes fun of her son's attempts to create a new form of theatre, and only one guest, Dr Dorn (Andrew McFarlane) gives his work any praise.
This sets of a series of rivalries between established and aspiring actors, writers, city folk and country kin, young and not so young anymore and parents and children.
When this production is firing it's wonderful. Scacchi finds great humour in her character, and Andrew McFarlane delivers a laid back, whimsical performance. Rebecca Davis is brilliant in the role of Masha, Adam Booth conveys so much, while saying so little, in the role of Medvedenko and Greg McNeill is a stubborn and practical Shamrayev.
Sadly when some of the less experienced actors are left alone on stage this production falters. Scenes suddenly fail to captivate our attention and we're left struggling to follow, or care, about the story until the interesting characters return.
Fiona Bruce delivers some magnificent costumes that recreate the time of the story. Although dressing the elderly character of Sorin in a white suit may have been a mistake, sure it's historically accurate, but teamed up with Michael Loney's white hair and goatee, I just couldn't stop wondering why Colonel Sanders was at the party.
While it's indisputable that Chekhov is an important writer and his works are of great significance, there is not a lot of relevance to this tale in our modern world, and given the tight budgets and funding that our theatre world survives on, I can't help but wonder if there was a better vehicle to celebrate the talents of these seasoned performers.
'The Seagull' is playing at the State Theatre Centre until August 31. 
Graeme Watson, image: Gary Marsh