Senator Lidia Thorpe knocked to the ground at 'Let Women Speak' event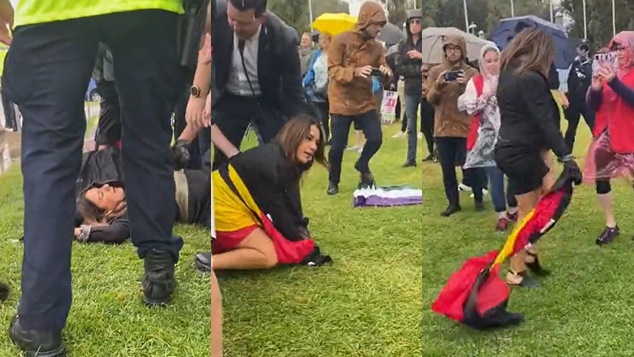 Independent senator Lidia Thorpe was knocked to the ground as attempted to interrupt the 'Let Women Speak' open mike event in Canberra on Thursday.
The last stop in British provocateur Kellie-Jay Keen's speaking tour saw a tiny turn out of supporters which was dwarfed by protesters. At every stop of Keen's seven city tour of Australia her supporters have been significantly outnumbered by protesters.
Warning: This story has details of acts of violence and anti-transgender comments which might be distressing to some readers. For 24-hour crisis support and suicide prevention call Lifeline on 13 11 14. For Australia-wide LGBTQI peer support call QLife on 1800 184 527 or webchat.
Thorpe appeared to attempt to interrupt the event when she was allegedly pushed to the ground when surrounded by private security officers and police. Police appeared to try to help her to her feet, but she crawled away before rejoining protesters. The Australian Federal Police have referred the incident to their professional standards body for review.
Satah Basford Canales from The Canberra Times caputured the moment.
Speaking to Paul Karp from The Guardian Senator Thorpe voiced her opposition to the event, and said she wanted to let Keen known that traiditonal owners did not welcome her to Canberra.
"This country should be ashamed that even let people like this into this country." Senator Thorpe said of Kellie-Jay Keen. "I went to tell her, or that thing, that they are not welcome here, and I got pulverised by the police when I'm simply telling that person that they are not allowed to be here."
"This government need t answer why they've allowed these people into this country", Senator Thorpe said.
Keen, who appears online using the moniker Posie Parker, has previously argued that transgender people should not be allowed in single-sex spaces, and that transgender youth should not be able to access medical treatments. Keen has previously been accused of being transphobic and having links to far-right groups.
Kellie-Jay Keen, who describes herself as a women's rights campaign, says describing her as "anti-trans" is defamatory. At her Adelaide event she declared "trans doesn't mean anything".
She was welcomed to Canberra by One Nation leader Pauline Hanson, who was joined at the event by colleague Senator Malcolm Roberts.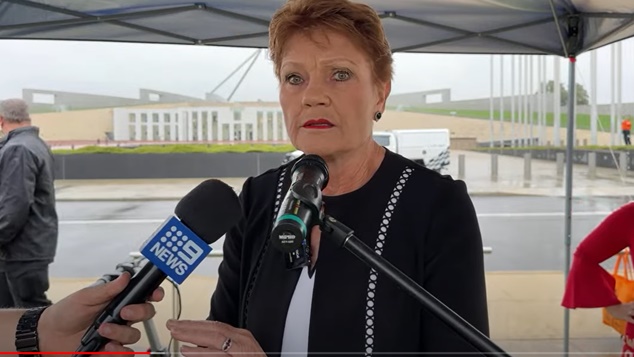 On Monday Senator Hanson had attempted to move a motion in the parliament seeking an inquiry into transgender healthcare of minors, describing the figures as "skyrocketing".
The motion was defeated 34-16. Senator Hanson found support from some Liberal members including South Australian senators Alex Antic and David Fawcett, Tasmanian Claire Chandler and Queenslander Matt Canavan.
In recent years Senator Hanson has attempted, and failed, to introduce several motions about people who are transgender, including calling for ban on puberty blockers, and restrictions on what can be taught in the education system.
"They don't want to have inquiries, they don't want to know the truth, and this is being pushed by these lefties and it's so wrong." Senator Hanson said.
Senator Hanson went on to say she believed that if parents were given an option about recording the sex of their child on birth certificates it would lead to catastrophe. "That will destroy us as human beings in this world" Senator Hanson proclaimed.
The One Nation leader said she had no problem with people over the age of eighteen changing their gender, or stating a sexual preference, but it should never be "forced on other people".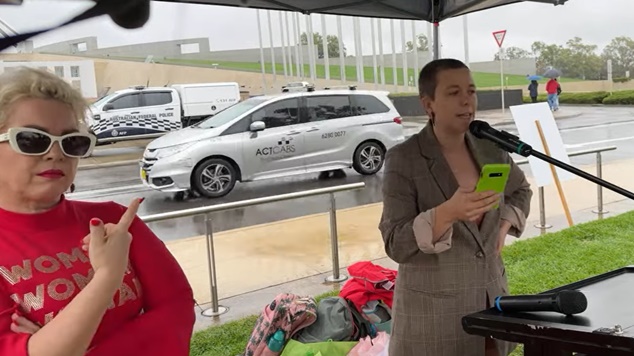 While there were speakers at the Canberra event one woman did take the opportunity to highlight that transgender people often face discrimination and challenges in accessing basic healthcare.
Keen stepped in and began challenging the woman while one of her assistants attempted to turn off the microphone. While Keen allowed the microphone to stay on, she quickly took over the microphone cutting the speaker off and demanding she answer a series of questions, hounding her from the podium.
The Canberra event concludes Kellie-Jay Keen's tour of Australia, she is now expected to travel to New Zealand.
OIP Staff
---
Do you need some support?
If you are struggling with anxiety or depression, support and counselling are available from:
QLife: 1800 184 527 / qlife.org.au (Webchat 3pm – midnight)
QLife are a counselling and referral service for LGBTQIA+ people.
DISCHARGED: [email protected] / discharged.org.au
Discharged is a trans-led support service with peer support groups for trans and gender diverse folks.
Lifeline: 13 11 14 / lifeline.org.au
Beyondblue: 1300 22 4636 / www.beyondblue.org.au
---

You can support our work by subscribing to our Patreon
or contributing to our GoFundMe campaign.