September Film Reviews: Comedy… or not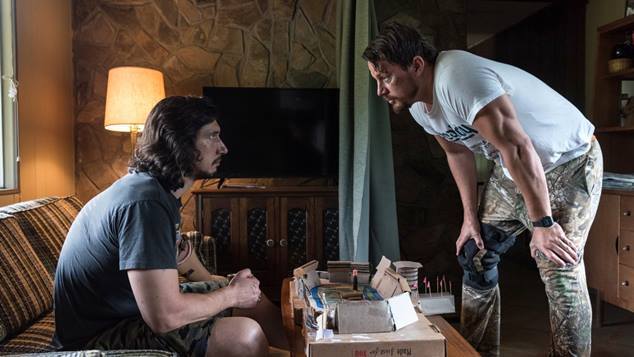 In Steven Soderbergh's hilarious heist film Logan Lucky (★★★★), it is fun to see actors cast in extremely different roles to what we are used to seeing them. Set at a massive Nascar speedway in West Virginia, a couple of not-so-bright desperados come up with an elaborate hare-brained plan to rob the speedway during the Coca-Cola 600 race on Memorial Day. Sporting thick Southern accents, brothers Jimmy (Channing Tatum) and Clyde Logan (Adam Driver) decide to break local thug Joe Bang (Daniel Craig) out of prison to help with blowing up the safe. With Jimmy's noticeable limp, Clyde's prosthetic arm and Joe's incarceration – what could possibly go wrong? Especially when they are relying on cockroaches to find a vault of money.
While the Logan sister Mellie (Riley Keough) shows off her driving skills, Jimmy's ex-wife Katie Holmes, who has married into money, is preparing their daughter for a beauty pageant. Meanwhile Joe brings his rather dim brothers Fish (Jack Quaid) and Sam (Brian Gleeson) into the arrangement and FBI agent Hilary Swank smells a rat but can't seem to locate it. The clever script makes sure the narrative twists and turns as the heist is attempted and the huge amount of bumbling and misunderstanding is a continual source of humour.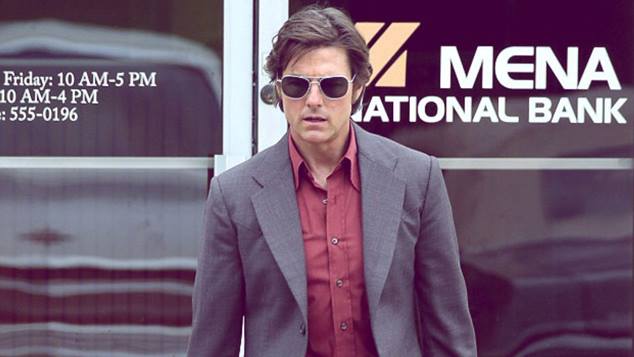 Tom Cruise is back flying aeroplanes in Doug Linman's American Made (★★★½). Presented as a boys' own adventure, Cruise tells the story of real life Barry Seal who was recruited by the CIA in the 1970s to take aerial reconnaissance pictures of potential threats in Central America. Next thing you know, he is smuggling huge amounts of cocaine into America for Pablo Escobar with the full knowledge of American intelligence and earning more money than he knows what to do with. As a trade-off, he is forced to smuggle weapons into Nicaragua to help the Contra war effort.
American hero Cruise is ideal for the larger than life antics of the catch me if you can game that Seal seems to be playing. The upbeat music gives a light-hearted edge to drug smuggling and gun-running and animated inserts explain the US / Russia / Nicaraguan War. The risk-taking is presented as an adrenaline-charged romp and the far-fetched story is presented as laughable. The disturbing thing is that the story is not a fable but an account of what actually happened, even if it is a rather superficial account. There are lots of human casualties even though CIA Agent Schafer (Domhnall Gleeson) manages to walk away and suggest solutions for that other troublesome country, Iran.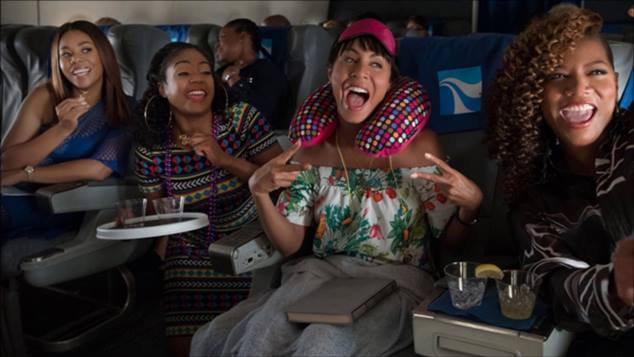 Malcolm D Lee's Girls Trip (★) has been hailed by critics as a "raunchy vacation comedy and a female-bonding melodrama". Four college friends reunite after 25 years to attend a weekend festival in New Orleans "celebrating black women in all shapes and forms". The successful Ryan (Regina Hall) who is promoting her Oprahish self-help book "You Can Have It All" meets up with gossip columnist Sasha (Queen Latifah), single mum Lisa (Jada Pinkett Smith) and outlandish risk taker Dina (Tiffany Haddish). The aim of the weekend is to get (quoting from their dialogue) "white girl wasted" and get as many dicks inside them as possible.
The result is a chaotic series of mishaps that release out of control anger lingering just beneath the expensively tarted up veneers of the four women. Abusive swear words turn into alcohol-fuelled bitch fights … and just when you think it can't get any worse, two of the women decide that it is a good idea to urinate over crowds of people while suspended above them. No amount of last minute feel-good sista-love band-aids can make this 2 hour film any better.
Lezly Herbert
---
Support OUTinPerth
Thanks for reading OUTinPerth. We can only create LGBTIQA+ focused media with your help.
If you can help support our work, please consider assisting us through a one-off contribution to our GoFundMe campaign, or a regular contribution through our Patreon appeal.