Upgrade your skin care regime with AEOS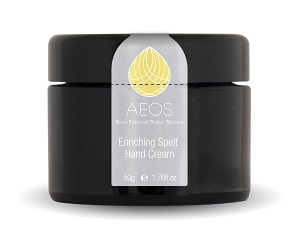 Everything about this remarkable system of holistic skincare has been meticulously designed, setting new benchmarks. "Made with love and intention" by Aura-Soma, it goes beyond the norm by using biodynamic ingredients, spagyric tinctures of crystals and gems, and pure biodynamic spelt oil that is grown and harvested on the Aura-Soma (Demeter-certified) biodynamic farm, and extracted using supercritical CO2 extraction to maintain the full properties of the oils.
AEOS' biodynamic spelt oil is extremely rich in natural Vitamin E and essential fatty acids and boasts excellent antioxidant, moisturising and regenerative properties: a fab all-rounder ingredient that is beneficial for all skin types.
AEOS ENRICHING SPELT HAND CREAM
This multi-award-winning hand cream is nature's own regenerating answer to happy hands. Deeply skin-quenching and protecting, this luscious cream is brimming with regenerative, antioxidant and moisturising properties. It's packed with natural vitamin E and omega-3 essential fatty acids. And the biggest surprise jumps at you as soon as you open the jar: its bright yellow!
AEOS GENTLE CLEANSING LOTION (BLUE)
Light and non-greasy yet deeply cleansing, this advanced botanical blend of organic and biodynamic essential oils, plant extracts and energies of gems & crystals come 'alive' when activated with water – maintaining the delicate moisture balance of the skin with the utmost purity. The cleanser really took me by surprise!
My skin not only feels clean and fresh, but is also left with a gentle tingle of astringency, which I just adore!
AEOS ENRICHING MOISTURISER (BLUE)
This award-winning blend of organic and biodynamic essential oils, plant extracts and gem & crystal energies, softens and conditions the skin, leaving it feel almost comforted. Ideal for dry, fatigued or environmentally-sensitised skin, the biodynamically-grown spelt oil unites with jojoba, sweet almond, argan and rosewater, for superior synchronistic moisturisation. Air-light and non-greasy yet deeply penetrating, you will feel the results within minutes.
Testing this truly unique, luxurious and effective skin care range has been life-changing. The Aura-Soma Active Energised Organic Skincare range has definitely won a place in my heart.
For more information, head over to AEOS.net
E. Thomas