Slinkee Minx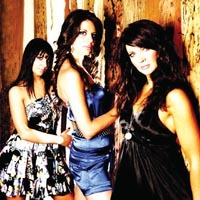 Here Anne Marie from Slinkee Minx talks about the group's new album.
Electric Dreams is your debut album why has it taken so long to release?
SM: There was a conscious decision to take time with this album. When Summer Rain came out it was so successful that we were very busy with touring. Once we had time to sit down and re-evaluate and then we looked for the right musicians to work on the album with us and we wrote songs for it. We never really stopped after the initial release; we have been touring especially in Melbourne as well as round the country.
Did you write all of the tracks on Electric Dreams?

SM: The majority we wrote. I would say we probably wrote about 70% of them which is quite impressive for a debut album as most only have some or none at all on their debut album that they have written.
On listening to the album it is a surprise because every one of them has dance hit written on it when you listen to it.
SM: Dance is something that comes naturally to us. We like different genres of music but for some reason writing dance tracks seems to come quite naturally to us.
Is there a story behind your new single Way Of Life?
SM: We didn't write that track it was submitted to us by Mr Timothy – the producer of that track – and had been co-written by the UK's Andy Love. A demo was sent to us and as soon as we heard it we fell in love with it. We have had amazing response to it so far. Mr Timothy is a lovely guy and extremely talented. We had a ball working together. He has actually produced four tracks on our album. It's not your typical Mr Timothy sound so I think people will be surprised by them.
Which would be your favourite track on the album?
SM: That's hard because they are all our little babies. I suppose "Falling Free". I think there is a bit of magic in that song in the way it came out. But we love them all for various different reasons.
Do you find it hard writing?
SM: It comes very easy to us and given that there are three of us we are never short of ideas. Song writing is a very important component of what we do. We are already writing songs for the next album as well as for other artists.
Sounds like you are very busy?
SM: It is a very busy time but we are very grateful to the opportunities that are coming our way. We have worked very hard on this. A lot of people would not know but we have self funded the majority of the album. It's a costly exercise and a rarity in this industry.
That must be better to be in charge of your own destiny like that?
SM: Funny that you should mention that because our personal mantra is "create your own destiny"
Is there a story behind "Think You're All That? Would I be right in saying that it's about plastic people?
SM: We get quite a few questions about that. In life you come across some superficial people and people that are very arrogant so that is the inspiration behind the lyrics but it could refer to anyone or anything negative in your life. We had a lot of fun writing and recording that song.
Who would be your favourite remixer / producer?
SM: Mr Timothy would be up there but we have also worked with other amazingly talented producers like James Ash and Josh Abrahams. We thoroughly enjoyed working with them all.
Would you agree that Australia has a huge talent pool not only in recording artists but also in remixing and production side of recording?
SM: Absolutely, Australia has a wealth of talent. I think at times we are our own worse enemy as Australia has this tall poppy syndrome when it comes to success. We made a decision to work with the who's who of the dance industry and created a very strong album that is all Australian made which is fantastic.
Was your initial debut success with Summer Rain a big surprise?
SM: Absolutely yes. We always knew we had a strong track. When we heard the final cut we all thought that wow we have something here. We definitely have a soft spot for it that is for sure.
Does it surprise you that it still gets a lot of air play in gay clubs and gay parties?
SM: Yes it does but we are very grateful for the support that we have been shown by the gay community. We can be performing the song and we can hear people singing it from the crowd. It is a surreal experience.
Which Australian artist would you like to collaborate with?
SM: That's a hard question. I think Kylie would be great to do a project with. We are all fans of hers. Darren Hayes would be another one. It is a hard question actually.
What plans have you for overseas?
SM: Well the album will definitely be released overseas later this year. We are also hoping to tour overseas at the end of this year or early next year.
You are often referred to as one of the hardest working female groups in the industry why is that?
SM: It's just indicative of the kind of people that we are. We just aren't afraid of hard work. Anyone that knows us or has had any dealings with Slinkee Minx will vouch for that.
Who would be your biggest musical interest?
SM: There's quite a few. Madonna who is always a great inspiration to us. George Michael, Kylie and Rogue Traders, so yes there are a few influences there. But we have never gone out to sound like anyone and I think that that is what sets us apart as well.
If you hadn't become recording artists what would you be doing now?
SM: Definitely something creative. Our background is in media and public relations which helps too. We are definitely the creative types so it would something creative.
What advice would you offer aspiring recording artists?
SM: I guess it would that you have to work hard, don't expect the opportunities to come knocking; you have to get out there and make your own opportunities and create your own destiny. I think a lot of people expect a lot of things but that's not how the industry works. Definitely hard work, commitment and passion.
What can Brisbane expect at Hoedown at the Wickham?
SM: Oooh we have a great show lined up. We have got some funky costumes and a really really energetic show. We will be doing some tracks of the new album and we are all really looking forward to coming up.
Slinkee Minx's new album "Electric Dreams" is out now as well as their new single "Way Of Life".
—
This article appears courtesy of qnews, Brisbane's GLBT publication.